Consistency is the key to achieving one's goal.
For Mounika Boggala, our star Associate Lead in Talent Acquisition, consistency comes with realized passion. In this blog, she talks about the niche switch at the peak of her career and how her journey with Specbee has added to her overall growth. Read about her inspiring story of her journey at Specbee.
Accomplishing new milestones
It can be a challenging decision whether or not to change your niche of career. But once you take the first step, everything seems to fall into place eventually. And you know - it was only hardest to make the first move. Once you've crossed that milestone, nothing can stop you from reaching new heights.
Mounika has been working with Specbee for almost three years now and never once has she failed in presenting her best self. Whether it's her scope of work in Talent Acquisition or managing the team in the most engaging way, Mounika has stood out in the crowd. It's actually an inspiration to watch her grow doing what she does, so effortlessly yet with the utmost dedication.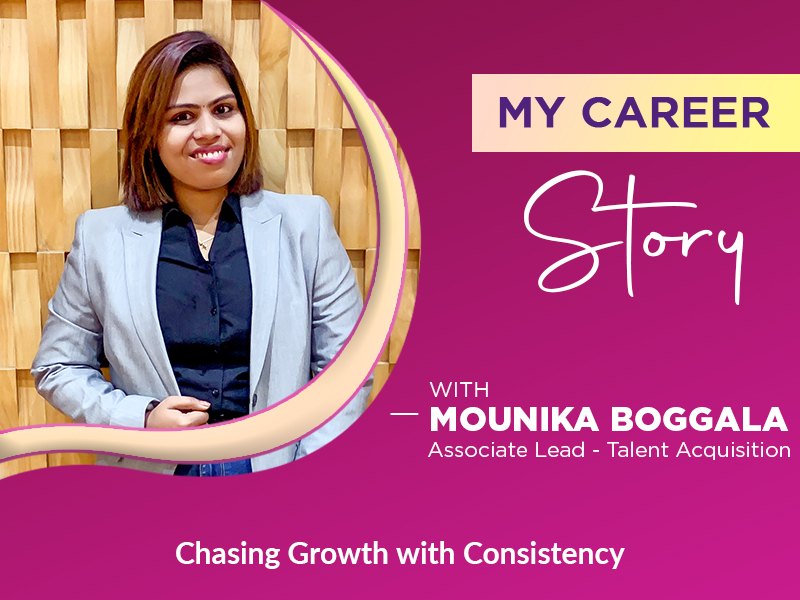 Mounika Boggala
Every person with talent deserves a chance to present their best. Such opportunities can be the product of deliberate effort or appear organically. Switching careers, like moving from US-based recruitment to domestic in-house recruitment within an IT firm, is trickier than it sounds. There might be lots of opportunities, but finding the right path in a friendly and supportive work environment is very important.
And guess what? I'm really happy to share that Specbee gave me that chance. I genuinely express my heartfelt gratitude from the bottom of my heart to Specbee for giving me this chance.
1. When you joined Specbee, what were your expectations?
Honestly, I was really excited to learn a lot and grow my career with this new chapter. When I became a part of Specbee, I already had hands-on experience with end-to-end recruitment. However, the domestic job market was new to me. Hence, joining Specbee made me super curious and helped me polish my existing knowledge base while opening new learning opportunities. This blend of curiosity and excitement helped me achieve new heights and gain a lot of valuable experiences.
2. How would you describe your career growth here?
I consistently observe certain strengths I've gained from Specbee. The team here is always welcoming the right talent, and they're very focused on helping us climb the career ladder. This observation resonates with my own journey as well.
I've been part of the Specbee family for nearly three years now, and I've seen my career take off in amazing ways during this time. The best part of it all is that I can try out new activities beyond my recruitment process. Because of such a flexible scope of work, I learned about things outside my usual role, and it helped me to add more value to my career.
I'm grateful to be a part of the Specbee team, primarily because of their receptiveness to employees' ideas and opinions. This trust and freedom of sharing my thoughts have really boosted my confidence, and helped me grow in various aspects of my career!
3. What is the impact of this growth on your personal development?
The chance of working closely with C-level executives has been super enlightening for both my professional and personal development. This experience helped me to get insights into certain critical areas like how to respond or react in different situations. I've also learned to be better organized and prioritize situations with respect to actions required, and people management while dealing with the tough ones. All of these experiences have made a huge difference in my career enhancement.
4. In your opinion, what does success look like?
In my opinion, maintaining a consistent passion is a key factor in achieving any goal of success. Additionally, I believe in embracing failures. It serves as a significant element that takes anyone forward in the path of success and towards their goal.
Conclusion 
One minor push of inspiration and motivation can go a long way. Our team at Specbee continuously strives to make an impact, inspire one another, and grow as a team. Ready to join the journey? Get in touch with us and send us your resume today at [email protected] . Or check out our open positions.