Everything you need to know about Adobe's powerful AEM solution
Consumer behavior naturally evolves over time, and it changes more rapidly with advances in technology. We have seen a seismic shift in the time between the advent of the Internet to today's powerful mobile device marketplace. Marketing and technology have grown as well, but there are difficulties engaging with the multi-channel consumer. Building custom personalized interfaces, delivering consistent digital experiences, and doing it all in time to meet consumer needs is a struggle.
Adobe Experience Manager (AEM) bridges the gap. AEM allows organizations to create unique digital experiences and manage fully context-optimized messages that scale across products, services, organizations, and geographies. In short, it gets the right message, to the right person, at the right time.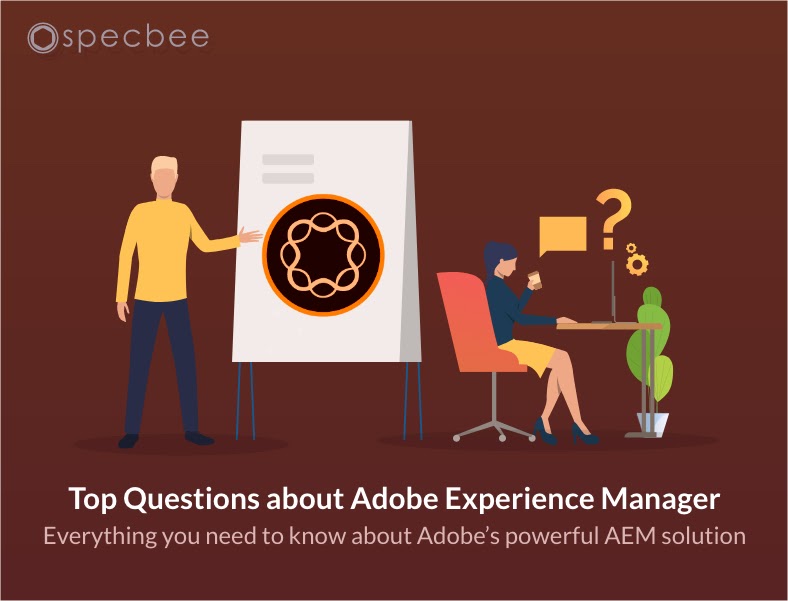 What is AEM?
Adobe Experience Manager (AEM), is a java-based content management system that is perhaps the most powerful component of Adobe Marketing Cloud. Previously known as CQ5, AEM serves as a hybrid CMS. For designers, it offers powerful and user-friendly options to build front-end applications. For marketers, it provides management and optimization of content for their core channels without external dependencies. For developers, it grants the power to create, access, and reuse content elements for seamless customer interfaces across projects.
How is AEM better than other CMS solutions?
AEM's biggest advantage is its ability to create custom digital experiences, personalized to the individual user. Providing best-in-class features such as content workflows, digital asset management, social and multi-channel collaboration, AEM allows users to manage digital content easily and effectively. Beyond simple website management, AEM provides an impressive solution to managing mobile applications, mobile websites, eCommerce, and marketing campaign management. Complemented with other Adobe Marketing Cloud solutions, AEM provides a path forward for digital marketing.
What is Adobe Marketing Cloud? Why do I need it?
Adobe Marketing Cloud is a comprehensive and integrated set of digital marketing solutions. It offers marketers a complete set of technologies that provide insights on analytics, web and app experience management, testing, targeting, advertising, audience management, video, social engagement, and campaign orchestration, all on a single platform.
Adobe Experience Manager: Allows brands to create seamless digital experience across all platforms and languages, enabling them to build their global presence and increase their demand. 
Adobe Analytics: Collects, analyzes, and divides visitors into segments that can be plotted on charts and analyzed to better understand user journey and behavior.
Adobe Target: Uses Adobe Analytics to deliver targeted content to the right visitor at the right time by understanding customer preferences and providing a personalized experience. 
Adobe Audience Manager: Allows brands to build unique audience profiles, thus allowing them to narrow down to their most valuable segments and use them across any digital channel.
Adobe Campaign: Allows brands to run targeted one-to-one campaigns to visitors based on their behavior and interests.
Adobe Advertising Cloud: Helps brands to predict the impact of changes to their search, display, and social ads, allowing them to easily manage and automate their campaigns.
Adobe Primetime: Helps brands to create, deliver, and monetize personal video experiences with a multiscreen platform.
What is AEM capable of?
Building and managing mobile sites and responsive designs from one single platform, creating a unified seamless digital experience from different devices such as desktop, tablet, or a smartphone. 
Creating personalized With tools to optimize shopping carts, sync product information from other systems like an ERP directory or your eCommerce platform, to generate pages from catalog data, you have the power to personalize online experiences to make it more engaging. 
Manage sites across multiple regions and languages, controlling everything from one centralized place. 
A central location that can manage and launch your marketing campaigns, also allowing you to store your marketing assets in one place so that you have easy access to them for your future campaigns. 
How much control does AEM give you? 
With AEM you can develop unlimited customized variations of your website including the format, delivery method, styles and more without having to work on multiple sets of assets. 
AEM allows you to easily bridge your creative and marketing workflows by integrating with Adobe Creative Cloud to create and edit assets.
AEM allows your team to design, create and manage interactive and responsive digital experiences with easy content authoring. Images, videos, content, or any other content components can be managed with an easy-to-use interface. 
Deliver personalized and targeted experiences with the help of Adobe Analytics data. Study your consumer behavior and make the necessary improvements on your website to enhance engagement and increase your revenue. 
Why do so many companies prefer AEM?
AEM does a terrific job simplifying the management and delivery of website content and reduces the complexity of delivering online experiences to targeted customers. That's why enterprises such as Deloitte, Samsung, Coca-Cola, Volkswagen Group and John Hancock depend on it. AEM was named a leader in Gartner's 2019 Magic Quadrant for Web Content Management research report for the fifth year in a row, and also recognized as a leader in The Forrester Wave: Web Content Management Systems, Q1, 2015 report.