Social media has been the new norm ever since its origin. But not everyone understands its implications.
When you look up the term "Social Media" on Google, the definition you'll find is "Websites and applications that enable users to create and share content or to participate in social networking." But you may already know that "websites" and "applications" can be difficult terms for the ones who aren't familiar with what they are practically (not for kids or all senior citizens, obviously).
For such common people, social media means virtual platforms that allow people to build their network and socialize with people across the world. But here, the question arises: When you can even have real conversations with people and network with them, why use social media?
That kind of question is exactly what this blog's about. Read this post to understand how social media can be helpful for you and how can you use different platforms according to your benefit.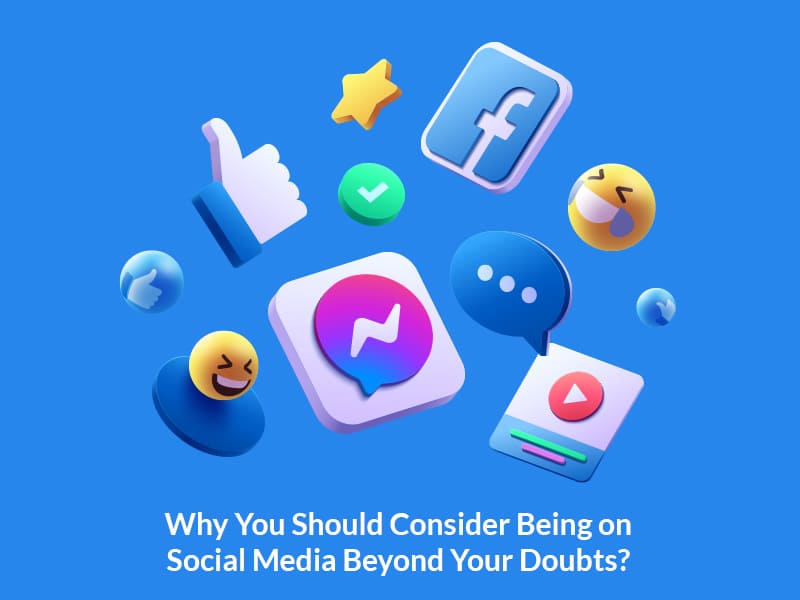 Benefits of Using the Social Media
Everything comes with its own set of pros and cons. But it's only the pros that draw our attention toward something. So, here's a list of pros of using social media. 
Social media allows you to widen your connections and understand the world
You can find new friends and build a good network
Social media platforms are great to develop your communication skills and come out of your comfort zone
You can organize campaigns for the greater good of the society
Social media provides an ideal platform to market your business
Activists can establish a positive digital footprint
Using different social media platforms lets you stay updated and become active citizens
You can use these mediums to showcase your talents
Using these platforms, you can voice your opinions in the crowd
And more…
How can you use different social media platforms to your benefit?
LinkedIn: LinkedIn is a social media platform, specifically meant for the career-oriented crowd/growth-minded audience. You can use this platform to grow your professional network organically. Here's how LinkedIn benefits its crowd-
Build stronger professional relationships
Provides an ideal place to market your business or brand
Share your experiences during your career growth
Increase your visibility among employers and peers
Reap the benefits of LinkedIn Learning and educate yourself
Interact with like-minded people at your ease
Instagram: Instagram provides you with a versatile platform that focuses more on entertaining content for the masses. It can be used for various purposes, such as marketing your business, creating exciting content, etc. Here's how Instagram can be an entertaining yet useful platform for you-
Organic reach
Connect with multiple pages
Build your own personality/brand
Connect with people worldwide through images
Explore infinite content ideas
Facebook: Facebook is one of the oldest social media platforms, or rather a "social networking" platform. It emerged with the specific idea of networking with people across the globe. Here's how you can use Facebook to your advantage:
Connect and converse with people from different parts of the world
Make friends around the globe
Join or follow pages of your interest
Stay updated with news around you through videos and other informational content
Share your thoughts and pictures with your peers
Twitter: Twitter is meant for the busier crowd who would like to stay updated about the world, but has limited time to invest in getting new information or sharing new updates. Twitter allows you to share your thoughts through quick and short tweets.
Find your support network in your Twitter community
Learn from like-minded people within a minute
Stay updated with what's happening around you
Promote yourself and your brand
Be smart and improve yourself through better opportunities
The Problem with Social Media
What could possibly be the reason why the ones who don't prefer being on social media feel the way they feel? As previously mentioned, everything has its own set of advantages and disadvantages. This crowd of people is more convinced by the downside of these social media platforms. Some of the reasons why someone may not be interested in or dislike the idea of social media could be: 
Privacy concerns
Possible medium of false news
Diminishes authenticity of human emotions
Decreases face-to-face interaction
Ego
Anxiety/Depression
Zero social skills
Self-doubt
Can be addictive
FOMO (Fear of Missing Out)
Is there a solution?
People might preferably stay out of using social media. However, the reasons that stop them from using these platforms are factors addressed by the creators of the social media platforms in ways that can prove to be helpful.
The downside of social media is not something that cannot be dealt with. The creators of this platform took everyone's concerns into consideration and curated these platforms respecting their needs. So, how can we solve these issues? Here's how:
Change privacy settings and know who's in your network
Connect with people you already know
Engage with legitimate and official pages only
Avoid letting social media affect who you are
Understand the difference between reel and real and refrain from comparison
Take breaks
How Can Introverts Benefit from Social Media?
An introvert believes more in internal thoughts and ideas than external connections. However, this section of people cannot be shadowed by the ones benefitting from the advantages of social media. About 40% of the population in the world are introverts! This implies there's got to be a way that the world of social media adds to the benefit of this section of people.
Introverts shine better on social media! Here's how:
Consume and share content you like without any judgment
Communicate with your network privately 
Participate in conversations at your ease
Humanize your introverted self
Build your personality the way you want
Connect more!
Final Thoughts
Social media isn't meant for a limited audience, but for all. Moreover, there is always an option to overcome the downfalls of using social media with remedial efforts. Whether you're an introvert or extrovert, a business or company owner, homemaker, student, growth seeker, senior citizen, or anyone, the plus side of social media is that it is for the benefit of all.
True, not everyone may be actively updated with these platforms, but it's an undeniable fact that every section of the demography can use these platforms to their advantage!
If you haven't been using social media to your benefit, now is the time to up your game!