The next generation of analytics is here. Although launched late in 2020, Google Analytics 4 (GA4) completely took over the previous Universal Analytics (UA) early this year (2023). It is truly an upgraded version because it is definitely smarter (AI), more user-centric, event-driven, and ultimately lets you create improved user experiences through better user behavior predictions.
In my role as an SEO Specialist at Specbee, I have had the opportunity to contribute to the success of multiple Drupal websites by implementing effective marketing strategies. Through this experience, I have gained a comprehensive understanding of the nuances involved in crafting superior marketing strategies, particularly in harnessing the full potential of GA4. In this article, I will talk about some of my favorite strategies and tips I use to make the best out of GA4 and Drupal which also includes creating different types of reports. Take a look!
Want to learn about setting up GA4 on your Drupal website? Look out for our article coming soon, Stay updated by subscribing to our newsletter today!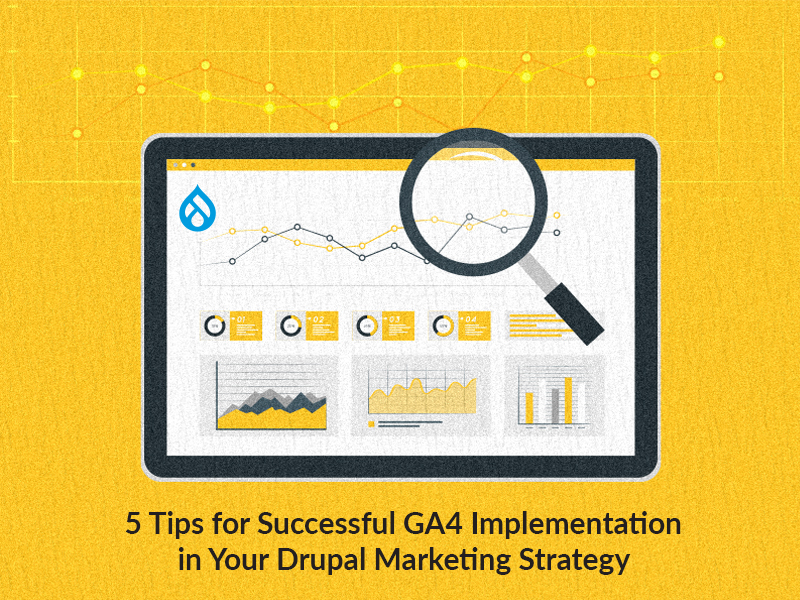 Combining the power of Google Analytics 4 and Drupal
GA4 is an incredibly powerful tool that provides valuable insights into how users interact with your website. By integrating GA4 with Drupal, a comprehensive content management system, you can significantly enhance your Drupal marketing strategy and improve your website's overall performance.
To ensure a successful implementation, let's begin by discussing five essential tips.
1. Plan your GA4 Integration
Before diving into GA4 implementation, take some time to plan your strategy. To measure your Drupal website's success, set marketing goals and track key metrics. These include user interactions, events, and conversions. A well-thought-out strategy is the foundation for a successful GA4 implementation.
 
2. Configure Custom Events
It's important to set up custom events in GA4. These events track user interactions that match your marketing goals. You can gather specific information by using custom events that you can't get from pre-defined events. By using this feature, you can understand your needs better and make informed decisions to achieve better results. With custom events, you can track specific data such as video views and form submissions on your Drupal site. This data can help you optimize your website and improve your user experience.
3. Custom Event Report 
Create a personalized event report in GA4 to match your marketing goals. You can track special user actions on your Drupal site using custom events. Examples include video views and form submissions. This helps collect accurate data that matches your goals.
4. Implement Cross-Domain Tracking
To succeed, it's vital to have a marketing plan for all Drupal websites and track across domains. With GA4, you can easily track user behavior across different websites, which gives you a comprehensive view of user journeys. By using cross-domain tracking, you can collect valuable data and analyze your marketing efforts effectively.
 
5. Utilize User and Event Data for Personalization
One of GA4's strengths is its focus on user and event data. Your Drupal website can benefit from the valuable data it collects. By analyzing user behavior and preferences, you can personalize user experiences, tailor your content and marketing efforts, and engage your audience more effectively. This can lead to higher conversion rates and increased customer satisfaction.
To have a successful GA4 implementation in your Drupal marketing strategy, you must plan and consider your specific needs. To drive marketing success, create a strategy and use e-commerce tracking, custom events, and cross-domain tracking. Personalize using user and event data. In summary, it is essential to be strategic and thorough while implementing GA4 to achieve the desired results.
User Overview
GA4 Reports
Now, let's look at some important GA4 reports for improving your Drupal marketing plan.
Acquisition Report
The Acquisition Report in GA4 provides insights into how users land on your website. You can use it to see which channels bring in the most traffic. It categorizes traffic sources like organic search, paid search, social media, and referrals. You can use this data to allocate resources and budget more effectively for your marketing.
Custom Report
With GA4's custom reports, you can make personalized data views that fit your marketing needs. Custom reports for your Drupal marketing strategy allow you to select the most important dimensions and metrics. These reports provide helpful information about who uses your website, how they behave, and what events they track, all in line with your goals.
Engagement Report
The Engagement Report focuses on user interactions with your Drupal site. The information it provides is valuable. It shows how engaged users are, including page views, session duration, and triggered events. To improve how users engage with your content and website, analyze their behavior and adjust accordingly.
Continuous Monitoring and Analysis
GA4 implementation is an ongoing process. Regularly check and study your data, evaluate how well your marketing campaigns work, and use data to make decisions. With GA4's real-time data, you can quickly adapt to changes in digital marketing. Stay ahead in this evolving landscape.
Final Thoughts
Following these steps can help you leverage the full potential of GA4 in your Drupal marketing. The Acquisition, Custom, and Engagement Reports provide insights for informed marketing decisions. Remember that the online world is always changing, so your marketing plans will need to evolve too. Monitor and analyze your data to adapt your GA4 setup to growing needs. When you make decisions based on data, you can improve your Drupal marketing strategy. This will help you get the best results. Are you looking for help with managing, building, or improving your Drupal SEO strategy? We'd love to talk!
P.S.:- A special note of thanks to Shefali Shetty for her time and invaluable input that made this blog happen. :)