What's common between Universities and Drupal? Both are powered by communities and both fuel community-based initiatives. In this article, we will look at some amazing educational websites built on Drupal and why they choose Drupal as their CMS.
Did you know every Ivy league school website is built on Drupal while 71% of the top 100 Universities around the world use Drupal? Numbers speak volumes about a good CMS, but we have many more reasons to prove that Drupal is the best CMS for educational websites. Read on to find out.
This list has been curated with information obtained from https://www.drupal.org/case-studies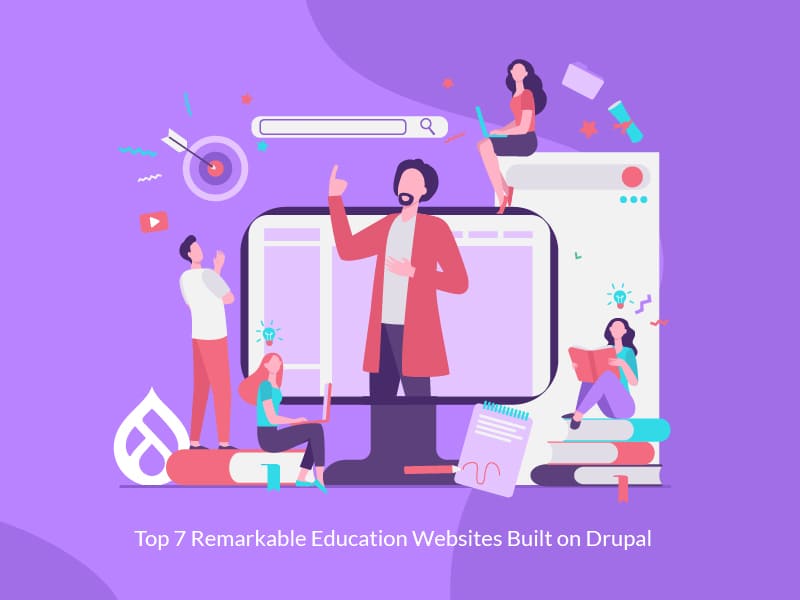 Why do top universities rely on Drupal
Top universities like Stanford, MIT, Oxford, and others alike, choose Drupal as their Content Management System. Universities are built on large communities – there's the student community, the teaching staff community, the community of departments, the management, and other working staff. Being a community-driven CMS, Drupal helps knitting all these communities together. Drupal addresses issues in a way that streamlines information between each of its communities. 
Drupal allows for scalability to accommodate the ever-growing communities and varied web projects associated with them. The CMS is also well-known for dealing with a large user-base and high-traffic websites which is great for universities with a growing student base.
Drupal empowers educational institutes to build varied flexible solutions – from intranets to complex web applications to simple static web portals.
Drupal's multi-site approach lets universities easily manage and create independent websites from a single codebase.
Features like multilingual, mobile-responsiveness, effective workflow management, access control, and others are now out-of-the-box with Drupal 8, thus making it an ideal choice for educational institutions.
Some Remarkable Education Institute Websites built on Drupal
1. George Washington University
Known best for producing some great leaders in every domain, George Washington University (GWU) relies on Drupal to create an engaging web presence for them. 
Why Drupal was chosen:
Drupal's multisite feature now allows them to spin up new sites faster than ever before. 
Accessibility – GWU is committed to web accessibility and so is Drupal.
Responsive Web Design – The GWU website is completely responsive on all devices.
Ability to build scalable features and functionalities with customizable layouts.
GWU expected a reliable digital experience platform. And Drupal delivered.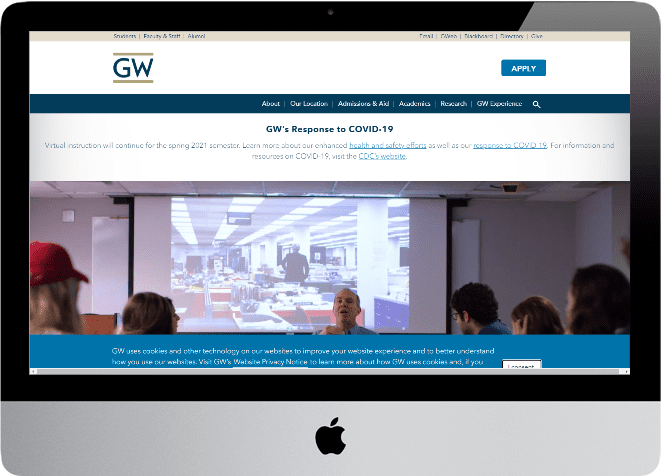 2. University of Oxford
The prestigious University of Oxford has been at the top of the world university rankings for five years in a row. They offer over 250 different programs with a student population of over 24,000.
Why Drupal was chosen:
The open-source nature of Drupal worked out well for them financially and also meant that they will not have to depend on one company for all their development needs.
A global community of driven developers working towards making Drupal better every day.
To collaborate and work better with other units of the university who were already using Drupal.
Drupal's list of quality case studies, including the White House, turned out impressive enough to make the final call.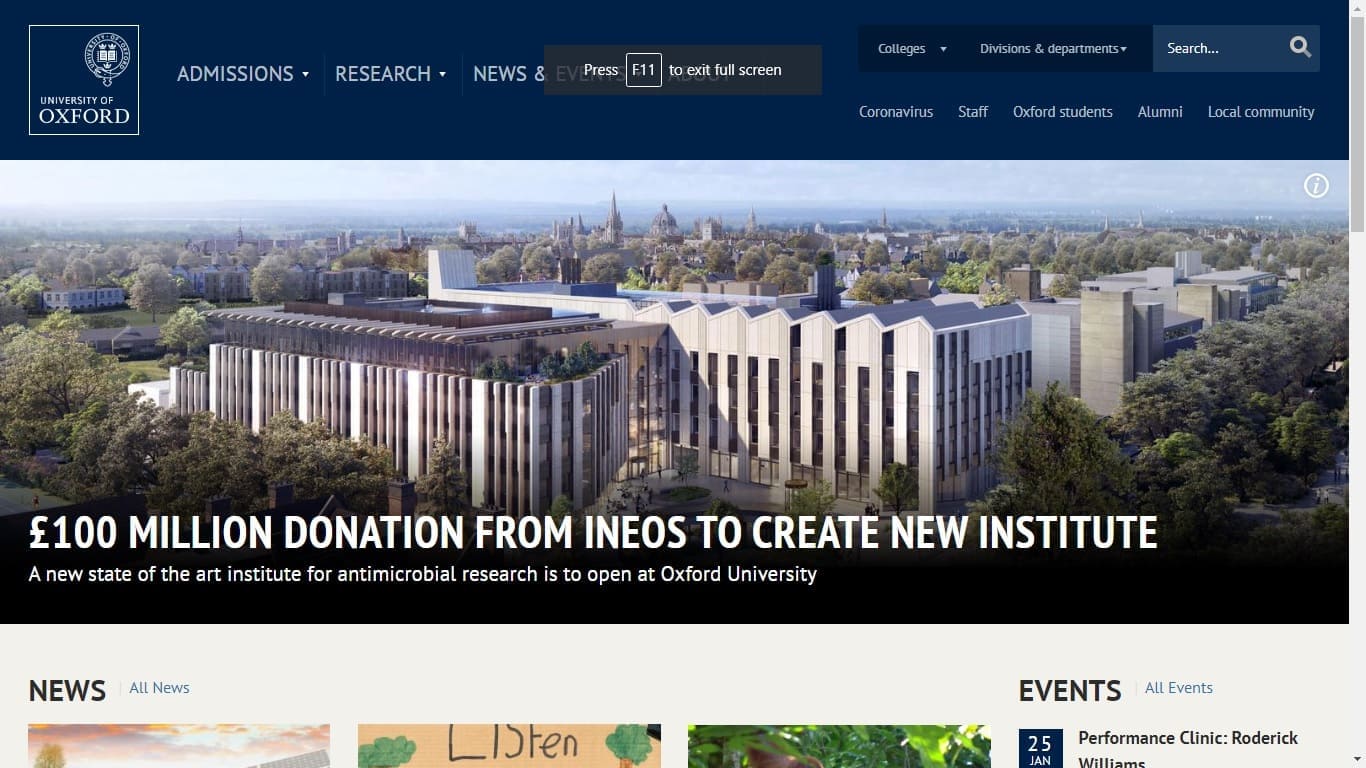 3. Rutgers University
Rutgers is New Jersey's state university and is one of the highest-ranked public universities in America with over 71,000 undergrad and grad students. They moved their website to Drupal more than 10 years ago.
Why Drupal was chosen:
They wanted a design that looked great on all devices.
To deliver a consistent user experience among their various school locations.
Distinguish between their different schools yet provide a unified experience.
Allowed for fast and easy admission application at different university locations.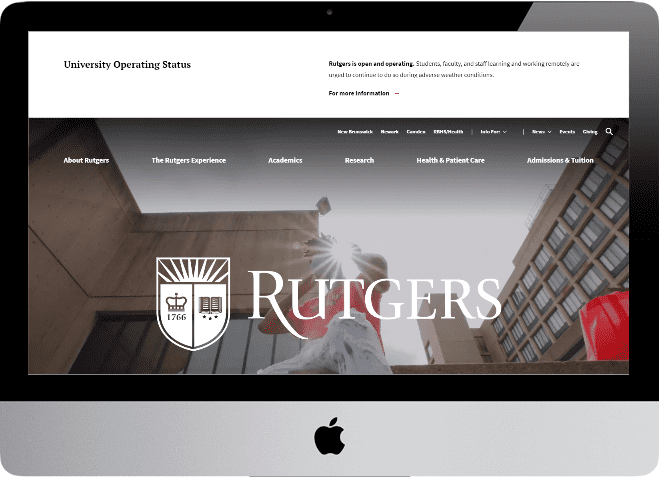 4. Bookshare
Although not a university, we had to mention the Bookshare website because it does a fantastic job at imparting knowledge to the visually challenged and people with learning difficulties. There are different formats of accessing the books – audio, large-sized printed, or braille.
Why Drupal was chosen:
Web accessibility – They needed to have the highest level of compliance (AAA) to ensure accessibility by the visually impaired.
Multilingual capabilities – Bookshare is made available to people across the world and is currently available in 7 different languages (and counting), thanks to Drupal's multilingual feature and translation modules.
To support deep integration with their existing APIs.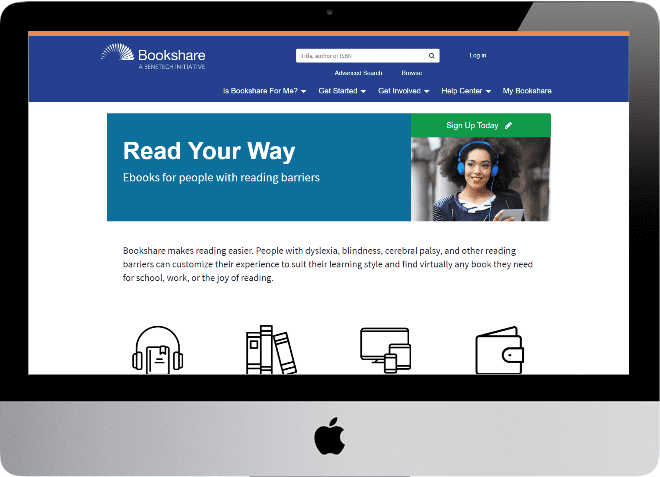 5. Georgia Tech Professional Education
Georgia Tech Professional Education is one of the many academic units of Georgia Tech, serving more than 36,000 learners globally. Georgia Tech is one of the top 10 universities in the US.
Why Drupal was chosen:
Its ability to integrate with various third-party marketing and communication tools.
Data security to protect student information.
Improved performance with smart caching.
To provide a user-friendly, easy to navigate and access website.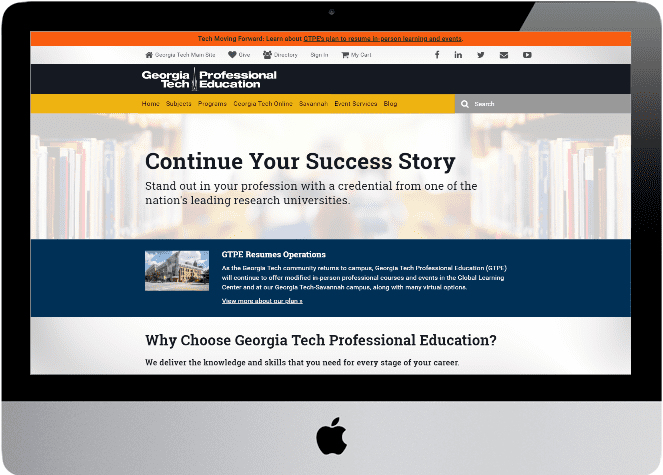 6. UChicago News
The University of Chicago News office focuses on publishing new content ranging from student academic information to current affairs. They publish over 1000 stories every year that are later picked up and published by other media and publishing firms.
Why Drupal was chosen:
To improve website performance and speed during peak traffic events.
Powerful and smooth migration of their heavy websites with over 20,000 content nodes and over 10,000 taxonomy terms.
To be able to accommodate their growing number of pages, content types, and access control levels.
Easy creation and management of content with an effective workflow system in place.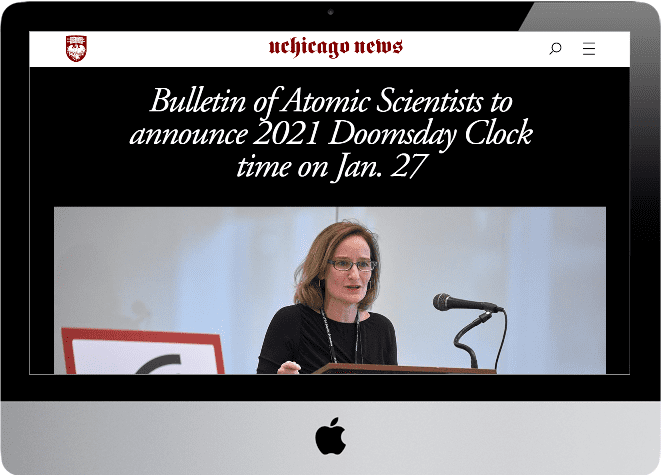 7. University of Minnesota
Founded in 1851, this top university has more than 50,000 students enrolled in its programs. University of Minnesota is one of the very few universities that can boast about having a medical school, an engineering school, a law school, an agricultural school, and a veterinary school – all in one campus! They had 600 sites that needed to be migrated to Drupal, each of them heavy in terms of storage size with millions of monthly visitors.
Why Drupal was chosen:
They needed a flexible CMS that could handle their humungous number of visitors and content with ease.
To be able to quickly create new sites from standard design and features – using Drupal install profiles.
To build a centrally maintained, yet independently distributed platform that can be used across departments, satellite campuses, organizations, staff, etc.
To offer a secure platform with an extremely low tolerance for failure.