Building and maintaining superlative web experiences requires a focused team that specializes in delivering quality digital solutions to take your business to the next level. Some businesses have this team in-house while others don't. Mainly because the skills required of this team are not core to their production activities. Or because the activities involved don't warrant a full-time in-house team. This is where a development partner comes in.
Trust is a clincher when it comes to choosing the right development partner. But finding a trustworthy partner takes some time and research, which will be truly worth the effort after all. Your Drupal development partner must not only be an expert with Drupal but be honest and maintain transparency right from the start; when they assess your requirements and tell you if Drupal is the right fit for you or not. Apart from honesty, transparency and trust, here is a list of pointers you should look out for when choosing a Drupal development partner.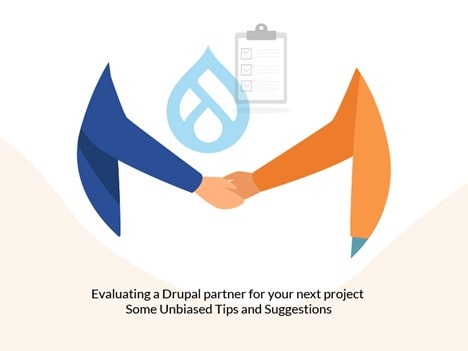 1. Experience and Expertise (obviously)
All Drupal development agencies claim the best expertise and tons of experience. You need to find out if the experience is relevant to your technology, and more importantly, your business needs or not. Find an agency that has worked with and delivered at enterprises of your size. Ask for exact case studies addressing the top challenges you face and how the Drupal agency has addressed similar challenges in the past. Challenges could be with respect to specific third-party integrations, stakeholders, traffic or any other aspects.
2.  Ideal Fit
The Drupal development company you choose to partner with will be an extension of your team. They might be the best in the business but are they the right fit for you? Communication is key here. Interact with people who will be directly involved with the project. Not just the salesperson. This includes the delivery manager, technical architect, and key project personnel. You should get a feeling that the people who you are interacting with belong to your team and will treat your purpose as theirs.
3. Understanding of the Project scope
Your ideal Drupal development partner will ensure that your project scope is understood, executed, and delivered in the way you had envisioned. Make sure the team you choose understands what is involved. Don't go with a team that says, "We are compliant ... what is your requirement?". The best way to know if they have understood the project is to ask them to prepare a scope of work and see if it aligns with what you want from the project. This involves one or more detailed discussions with your team. Be prepared for this.
4. Quality of Response
This one is often overlooked by organizations while it remains one of the top qualities to be looking for in a development partner. Although the average response time is about 12 hours, it is not only the time factor that matters. The quality of response shows the way the team perceives your problems. More often than not, you will know if the team you are dealing with is responding within your expectations (of time, information). This is a good indicator of interest as well as a benchmark on how they will interact with you once the project is underway.
5. Reference calls
Your Drupal development partner's client list speaks a lot about them. However, what can really help is to ask for reference calls with their customers. This will aid in finding out how their experience has been in terms of technical knowledge, communication, project management and in general about how happy they are. 
6. Proof of Concept (if you have the time): 
There's so much at stake in terms of time, resources, investment, and more when you dive into a development partnership. Asking for a Proof of Concept (PoC) will not only help you identify the team's performance but also if the end result matches your requirements. Request the team to develop a PoC. May be a vanilla Drupal release with specific features and functionality that can be done in 1-2 weeks. See how they perform there and if the way they communicate during the PoC meets your expectations.
7. Drupal community involvement
If your Drupal partner is an active community member and contributor, you know that they not only have the skill and expertise, but they also believe in giving back to the community. A commitment to Drupal shows that they truly believe Drupal is important for them and that they are in it for the long haul. Do a research on how involved they are in the Drupal community.
Every year, Dries conducts an in-depth analysis of the top 30 Drupal companies and individuals around the world that contribute to the project. That's a good place to look out for your Drupal agency partner.