Dreams, Passion, Motivation - three powerful words that lead us to our goals.
Gagana Girish, our Multimedia Artist, says work never feels like work when it's your passion. Imagine turning your only dream into a full-time job. No wonder, she does an amazing job with every design she creates at Specbee. It's her zeal that keeps her going and with a little more dedication and motivation, Gagana has come a long way, turning it into her profession. In this blog post, Gagana talks about what it takes to turn your passion into a successful career.
Living your passion
It's no secret that many of us have various interests that we'd love to pursue in some way. Whether it's dabbling in coding, becoming a published author, or launching your own business, the thought of turning our passion into a career can be incredibly exciting. But how do you make the jump from being an amateur enthusiast to professional success? Let's gather some inspiration as we join Gagana in her journey of turning her dream into reality.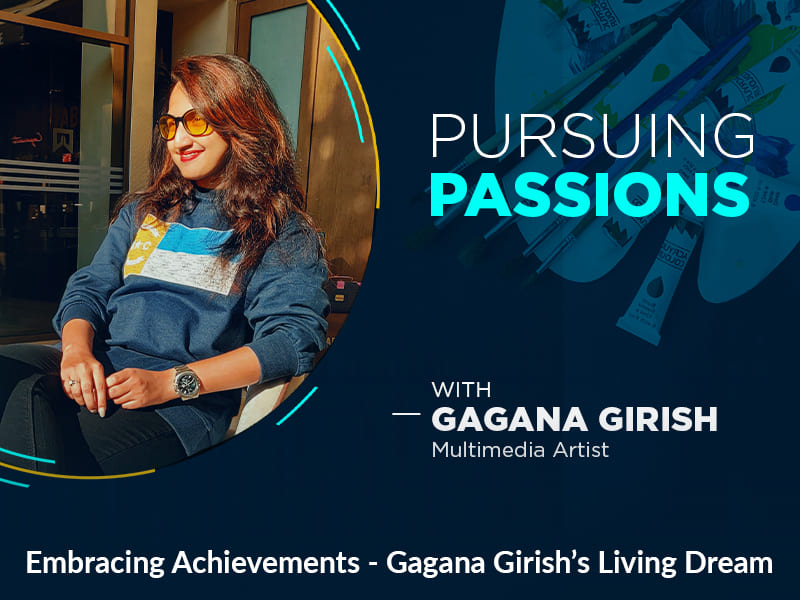 What is it like to work at Specbee?
When you are truly living your passion, work never seems like work. My career and passion are in the same boat, therefore I never feel like I'm working here at Specbee. Specbee has a great squad. No matter how big the task is, they constantly support one another and encourage their efforts. It has been a never-ending process of learning and development here.
With a full-time remote job, what do you do to follow your passion?
Since I was a young child, I have been incredibly passionate about creating artwork. And such perseverance has helped me to convert my passion into a profession. Working full-time remotely with Specbee gives me plenty of space and time to pursue my passion for creating artwork because I no longer have to spend the mornings and evenings driving from work.
I get ample time to ideate and create digital artwork based on my personal creativity, when not working.
What impact has it had on your overall development?
I am encircled by amazing peers at Specbee. Starting with my everyday routine and moving on to the work schedules, I can see myself growing and improving every day, and I'm able to pursue my interest. Since I've been involved in this association, I've noticed that my work-life balance is better and more productive than ever before. Specbee has provided numerous opportunities for me to seize, and it has undoubtedly had a significant impact on my entire development.
At Specbee, we believe in fostering a culture of overall growth and empowerment, where our team members help each other to present their best selves. Ready to join the journey? Get in touch with us and send us your resume today at [email protected]. Or check out our open positions.
Here's to more such stories of following your passion!