When you realize your passion, you can motivate yourself to keep going ahead.
Hi. My name is Priyanka Phukan and I work as a Junior Content Writer and Marketer at Specbee. Ever since I joined the company, my goal has always been to be better than I am and perform well at my job. I've always strived to stand tall to my senior's expectations, and more so to impress the perceptions of myself.
My passion unfolds in two ways - words and music.
And although my career started with "words," I never even dared to step into music as a career. And in this article today, I want to share "why that's so."
A Writer's Search for Calmness
Music calms your soul and mind. Your tastes in music might differ, but everybody has their own reason to listen to music - some may listen to hardcore metal to activate their energy, some listen to folk music as it soothes the soul, and some might just enjoy tapping their toes to Bollywood and pop songs. Either way, everyone seems to enjoy music in some way or the other.
My journey with music started quite young when my mother admitted me to a classical music school. At that time, honestly, I had no idea what I was doing, but I was excited!
My mother had always wanted to learn music. But from the time and place she came from, there were no such opportunities for women. And so, she dreamt of her daughter fulfilling that dream. I used to rebel later in my teen years, as I thoroughly enjoyed dancing rather than singing. But little did I know that I was actually turning into a skilled singer (It's the first time I'm calling myself a 'singer,' perhaps, as a dare xD).
So, join me as I talk about my journey with music and how I blend both my passion for writing and singing.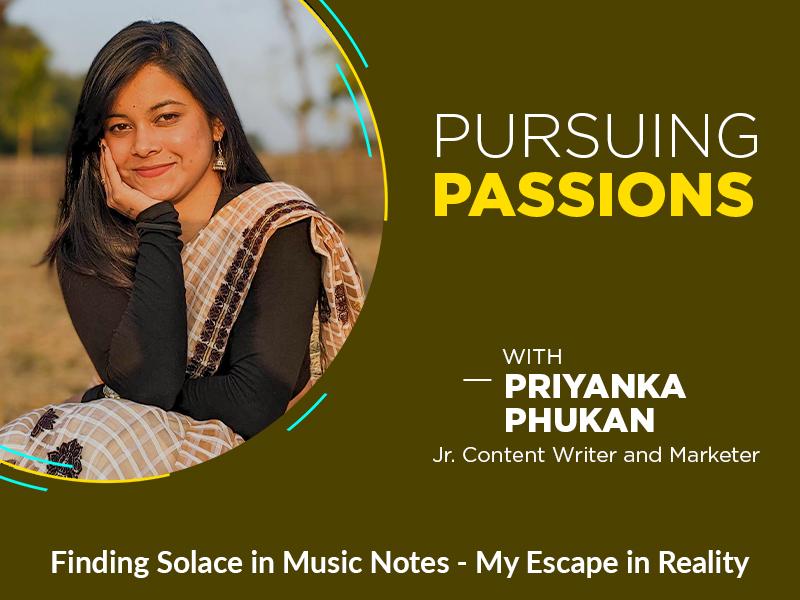 What is it like to work at Specbee? 
My career sure did start with writing, and I still pursue it at my job. But as I said, if writing has given me the source of motivation and a career filled with passion, singing has driven that passion to a lifelong escape journey. 
I never really wanted to limit myself to four walls where I'm writing only for one purpose. Specbee gave me the opportunity to go wild with my skills and apply them in vibrant ways possible. I got the opportunity to express my ideas and perceptions through words, received the appreciation I hoped for, and the push I needed to keep striving to be better. I embraced the hunger of always moving in the forward direction and never giving up until… Well, there's no 'until' as there's no stopping to NOT giving up -  that's my mantra!
With a full-time remote job, what do you do to follow your passion?
Ever since I became a part of Specbee is actually when I could dedicate immense time to singing, simultaneously with writing. Additionally, my seniors have always encouraged me to come out of my comfort zone and proudly pursue the thing I'm good at or enjoy doing the most - singing.
I keep YouTube on, either with pre-made playlists for focusing at work or for a calming mind. And sometimes, I make up my own playlist so that I can sing the songs out loud and enjoy myself while at work. Thankfully, I work from home, and that saves my colleagues from my non-stop singing forte ;).
You see, my entire day goes with music as my shadow. I listen to music while at work, and I sing with my Uke after I'm done with work, almost every other day. That's because I have the time, motivation, and encouragement to follow my passion besides my time at work. Plus, I receive lovely comments from friends and colleagues about the cover song videos I post on social media :).
What impact has it had on your overall development?
So, I can write, and I can sing - two therapeutic passions I've developed, and well, it keeps my heart calm and my mind creative, giving me sound mental health and a positive attitude towards life. I remember often being stressed out before, either because of work or life as it is. And I never had enough time for myself. 
Now that I have the time with a good work-life balance, my life seems to be on track. I've given myself the space to develop, both at work and in my passion. I work with words and explore my ways to grow. And then, I come back to life, sing my heart out, and recharge my batteries to once again keep striving towards my goal.
At Specbee, we constantly try to create an environment of overall growth and empowerment, where we encourage each other to explore growth beyond their limits and help each other to be better than they are. Ready to join the journey? Get in touch with us and send us your resume today at [email protected]. Or check out our open positions.
Here's to more such stories of following your passion!