Have you stepped into the latest version of Drupal yet? 
As you probably already know, Drupal 9 reached its EOL on November 1st, 2023. Now is the time to ensure your website's best future—migrate or upgrade to Drupal 10.
Drupal 10 has opened the gates to many powerful enhancements. To say the least, both developers and designers can take advantage of its enhanced theming capabilities.
In this blog post, we will explore what's new in Drupal 10 theming and how it can elevate your website development experience.
SPOILER ALERT: This sneak peek is just the beginning. Keep reading till the end for the full scoop!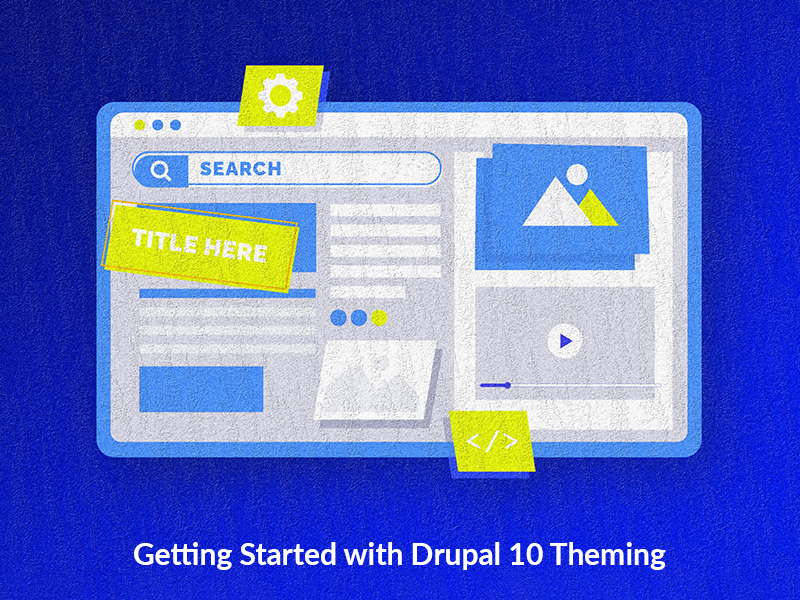 What is Drupal Theming?
Theming in Drupal is all about giving your website or web application a personal touch. It's the process of designing and customizing how everything looks and is laid out. 
Whether you're fine-tuning a pre-built theme or opting for a unique design, theming involves playing around with HTML, CSS, JavaScript, and Drupal's theming system. It often calls for a team effort, with designers and developers working together to create the perfect visuals and functionality for your site.
All Things New - Drupal 10
"How to make Drupal better and easier for the community" has always been one of the goals of Drupal. And with the release of Drupal 10, we can experience an even more user-friendly platform for both experienced and beginner developers. A few of the key features highlighted in this release are Claro and Olivero themes, Symfony 6, Theme Starterkit, JavaScript components, and CKEditor 5.
Claro Administration Theme
The Claro administration theme is a new addition to Drupal 10, replacing the previous Seven theme. It offers a modern and user-friendly interface for administering Drupal websites. Claro focuses on accessibility, making it easier for users with disabilities to navigate and use the administration interface. 
The theme aligns with the Olivero default theme which provides a consistent look and feel across the website. Additionally, the Claro theme ensures fast-loading performance, even on slower internet connections.
Olivero Default Theme
Olivero is the default theme in Drupal 10. It brings in a modern, responsive, and accessible interface. Olivero focuses on providing a clean and lightweight foundation for customization while meeting high standards of accessibility. It's fully responsive and provides an optimal viewing experience across different devices. Further, it boasts a sleek and visually appealing design, incorporating custom typography, color schemes, and other design elements.
Theme Starterkit Tools
Drupal 10 introduces the Theme Starterkit, a valuable tool for developers and designers to create custom themes. It offers customizable templates, allowing users to start their themes based on these templates. The Theme Starterkit also supports Sass, simplifying the process of writing and managing CSS styles.  
Additionally, accessibility is prioritized in the design of the Theme Starterkit, providing templates and tools that assist in creating accessible and user-friendly themes.
Benefits of Theming with Drupal 10
Now that you have an idea of the new theming features offered by Drupal 10, here's a brief about how theming with Drupal 10 can add value to your website:
Enhanced Theming Architecture
One of the foremost benefits of Drupal 10 is its improved theming architecture. With its adoption of the Twig templating engine, developers can now create highly efficient and readable themes. Twig provides a clean syntax, which makes it easier for developers to understand and maintain their code. Additionally, Twig's separation of logic and presentation ensures a more streamlined and organized development process.
Responsive Web Design
In today's mobile-driven world, having a responsive website is crucial. Drupal 10 offers built-in support for responsive web design, allowing developers to create themes that seamlessly adapt to different screen sizes and devices. With responsive theming, your website will look and function flawlessly across various platforms, enhancing user experience and engagement.
Extensive Theming Options
Drupal 10 offers a wide array of theming options, empowering developers to create unique and visually appealing websites. From customizing layouts and color schemes to implementing intricate design components, Drupal's theming capabilities are flexible and adaptable. Whether you're designing a corporate website, an e-commerce platform, or a community portal, Drupal 10 provides the tools to bring your vision to life.
Accessibility Compliance
Inclusivity is an essential aspect of website development. Drupal 10 prioritizes accessibility compliance, ensuring that websites built on this platform are accessible to users with disabilities. With its built-in accessibility features, developers can create themes that adhere to WCAG 2.1 guidelines, making their websites usable for all individuals. This commitment to inclusivity not only improves the user experience but also helps businesses meet legal requirements.
Seamless Integration with Third-party Tools
Drupal 10 offers seamless integration with third-party tools and modules, enabling developers to enhance their website's functionality. Whether you need to integrate with popular marketing automation platforms, customer relationship management (CRM) systems, or social media networks, Drupal 10 makes it easy to extend your website's capabilities through its theming framework.
Community Support and Resources
As an open-source CMS, Drupal benefits from a vast and supportive community. With Drupal 10, developers have access to a wealth of resources, including forums, documentation, tutorials, and a global network of experienced professionals. The active community ensures that any issues or challenges faced during theming can be quickly resolved, fostering a collaborative environment for developers to learn and grow.
Ending Note: The Surprise!
Drupal 10's enhanced theming capabilities offer numerous benefits to end users, developers and designers. From its improved theming architecture and support for responsive web design to its extensive theming options and accessibility compliance, Drupal 10 empowers you to create visually stunning and user-friendly websites. 
Have you noticed that we did not discuss the HOW of Drupal 10 Theming? That's because we're coming with our next webinar soon, where one of our Drupal Frontend experts will talk about Drupal 10 theming and how can you get started with it. Here's what you can expect from the webinar:
Learn how to create a new theme/sub-theme
Explore in detail - Info.yml, libraries.yml, and breakpoint.yml files
Know more about .theme files
A deeper understanding of Twig Templates  
Introduction to Single Directory Components (SDC)
Brief about Frontend Build processes
Join us to enhance your knowledge of Drupal 10 theming. Here's your itinerary: 
Medium: Zoom 
Date: 6th December (Wednesday) 
Time: 7:30 pm IST (9:00 am EST)
See you there!