When my father handed me my first 'Reader's Digest' magazine, I thought it was the most wonderful piece of condensed mini publication ever! It had stories, anecdotes, real-life episodes and more that were compact enough to cater to a 13 year old's short-attention span. And the best part was, it would just magically appear (or so I thought) at my door-step every month! Little did I know about the enchanted subscription business model and its excellence.
Reader's Digest was founded in 1922 and by 1929 they had over 290,000 subscribers. Now they reach to an additional 40 million people spread across 70 and more countries. Subscription based businesses might seem like a recent trend but it has been around for a very long time. Since the advent of the printing press in 1440, newspapers and magazines have implemented the subscription business model which allowed customers to subscribe and use them on a regular basis. Gradually as technology sneaked in, telecom companies like AT&T would charge individuals monthly subscription fees to access their services.
Why implement a Subscription business model
As the demand for convenience and easy-work grew, brick and mortar stores like Blockbuster (movie rentals) are getting replaced by online video subscription giants like Netflix and Amazon. Some notable benefits of implementing a subscription based business model –
Recurring Revenue – You are cutting your risks down drastically when you implement a business model that ensures a predictable and constant revenue stream.
Retain your Customers - Customer acquisition costs and efforts are reduced while you can focus more on your customer service knacks.
Brand Loyalty – When provided with great products coupled with exceptional (and focused) customer service, customers get attached to a brand thus making them loyal and devoted.
Up-front Payment – Most subscription businesses offers payments to be made in advance thereby giving the business better financial strength and guaranteeing customer loyalty.
Reduced rejected Sales – Sometimes your products might not always hit the spot for your consumer but they will still (have to) accept it (while hoping for an improved product next month).
Easier Up-selling & Cross-selling – With a set of loyal customers who are attached to your brand by now, it gets much easier to up-sell and cross-sell to them.
Recurring Revenue for E-Commerce
What's better than revenue? That's right - Recurring revenue! As an e-Commerce vendor, even though your customers are likely to come back again and order products they loved, you cannot bet on it. If you want to provide your business with predictable and guaranteed income every month and rule out any uncertainties, adopting a subscription business model is the way to go. Nonetheless, for a successful subscription business model, you must be selling a product that your customers tend to use on a regular basis. For instance, if your e-commerce website sells only furniture or electronics, a subscription model will not work as it is not a recurring requirement.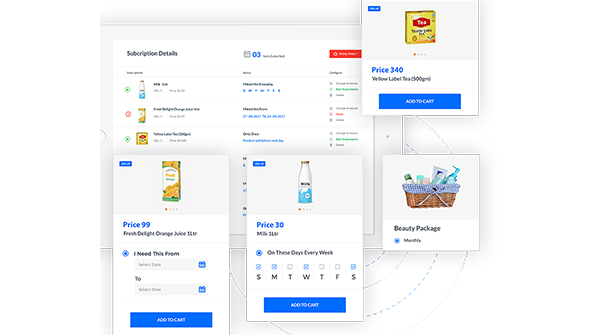 What you ought to know
Get the right Technology Platform and Partner. Your website is the backbone to your e-Commerce success. The e-Commerce platform you choose should not only allow you to sell online easily but also automate the ordering mechanism to enable recurring revenue. You should be looking for features like open/closed wallets, voice-based searches, dynamic cart updating, social media login/sign-up, Google-map integration for efficient address identification, re-ordering based on order-history, guest checkout, mobile responsive website, advanced SEO, heat-map analysis, etc., in your platform. Third party applications for accounting, marketing automation, PoS, ERP, CRM and more should be able to integrate seamlessly with your digital store for higher efficiency. Having a flexible console managed backend can give you the freedom to run your store the way you want. You should be able to create and manage products, offers, product categories, pricings, images, etc. easily and effectively.
Flexible & Granular Subscription Options should be offered to your customers for better convenience. Subscription is not just meant for Magazines, Newspapers and Books, you know. People spend big chunks of money on daily essentials which could range from $200 to $400 for an average American per person per month (According to a USDA report, Jan 2017). Perishable goods like Dairy products, fresh produce, Breads, etc., are almost second to oxygen and are needed very regularly. They're also recession proof and hence are great products for a subscription business model. Customers should be able to choose to get these products delivered to them at their convenience - Everyday/on a particular day of the week/once a month/certain days of a month, etc.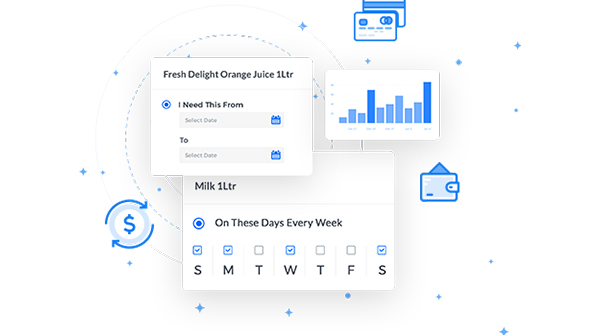 Subscription boxes might be losing charm as a recent research shows that consumers are suffering from what's now known as the "subscription box fatigue" and the market has saturated. There's only so much you can surprise your customer with in a pre-packaged box month after month. Your customers are eventually going to get tired and bored of this idea and will need to re-think if they really need for a subscription box. Many subscription box companies like 'Birch Box' are changing the way they engage with their customers by driving them to their online store.
On-time Deliver- Every time. If your customers have subscribed for your products, the least they can expect from you is to deliver on time. There is absolutely no excuse for a late or forgotten delivery. Many e-Commerce subscription companies have had to shut shop because of their inefficient shipping abilities. Choosing a technology partner/platform who can manage your end-to-end distribution and engineer your delivery network easily based on area or volumes will help in shipping more efficiently.
Pricing Matters. Customers aren't just looking for convenience when they turn into subscribers. They're also expecting a discount or a better pricing structure before they commit to a long-term relationship with you. Without it, they might as well be an on-demand customer forever. Also, giving customers the freedom to choose whether they want to pay you once a year or on a monthly basis will be an added benefit.
Build and keep working on Customer Relationship. It is true that with a subscription business, you can have a long(er)-term relationship with customers. Having said that, there is also tremendous pressure to maintain this relationship as even the smallest of blunders can lead to termination of their subscription. Did you know Netflix lost around 800,000 subscribers in 2011 when they introduced a sudden hike in the pricing structure unannounced? Always keep your customers informed about any modifications especially when it comes down to pricing.