I still remember the time when people who owned mobile phones held their heads high, and their phones even higher, when they walked down the streets. Mobile phones were just an emerging technology back then. Fast forward to the present time, mobile technology is now the center of many people's lives and a major factor for the success of many organizations.
As mobile technology transformed over the years, numerous mobile marketing concepts and theories came and were wiped out. In the early stages, marketers believed that mobile marketing was just a modified version of web strategy on desktops. But when they realized that people interacted with their mobile devices in a manner completely different than they do with desktops, they knew that an unique approach was required to engage users on their phones.
As a result, today's businesses are stranded with numerous advice on mobile marketing making it hard for them to know if they are valuable or misleading. While you need to take certain steps and use those advice to create the best strategy, it is never a good idea to start of right away without getting to know some facts!
You Have Your Demographics Wrong!
Yes it is true that the young generation love their phones and they don't seem to get enough of it. But the reality is something completely different. While many companies continue to equate mobile with young people and build strategies around the same base, what they have failed to notice is, people of all ages have increased their device usage. More than 85% of 30-49 years olds, 74% of 50-64 year olds, and more than 40% of over 65 years, own a smart phone and they use it regularly.
In a recent study, it was observed that the 50+ smart phone users were actually texting, browsing and accessing other stuff on mobiles as frequently as the younger groups. So it is important that you pick your target audience irrespective of their age when developing your mobile engagement strategy.
It Is Not All About Desktops & Tablets
When it comes to sale conversions, while desktops and tablets still rule the market, mobile commerce is quickly catching up and the tables might turn pretty soon. According to a recent research, more than 48% of the online spending on video games, consoles and a lot of other accessories come directly from mobiles. The same goes for online toys and hobby purchase ( with 46% ), jewelry ( 41% ) and event tickets ( 36% ).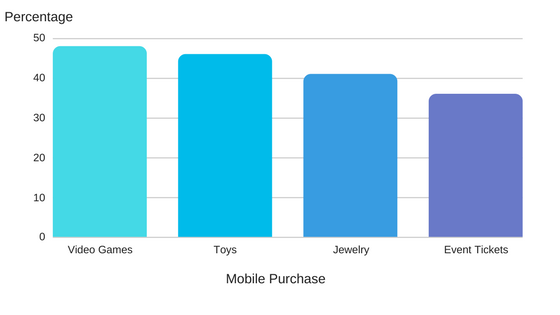 While the maximum number of buys through a mobile is of lower budget right now, the trend might change in the next couple of years. With new payment gateways, mobile & virtual wallets in the market, the comfort level with technology has grown substantially, and it won't be long before mobile buys become completely trustworthy.
The Best Approach is…..
It is not just about targeting different demographic groups based on their user behavior on specific channels. You also need to engage them, capture their attention and retain them through your digital marketing campaigns. And the best way to do it is by using a multi-channel approach in your campaigns.
But before jumping straight into creating several multi-channel strategies, keep in mind that your users are unique and this approach might not be the solution for every situation. From push and in-app messages to e-mails and news feed cards, use the channels wisely for better and faster results.
You Need To Be Careful!
Don't creep your audience out! In certain cases, people see Personalization as an unwelcome development. They don't want their location tracked every time they set out, and their activities monitored on a regular basis. So you need to keep your Personalization techniques honest and smart. Make them believe how their information stored in your system can actually help them. Use it wisely when the users knowingly share the data by either filling out forms or giving out permissions to access location, user data etc.
Acquisition Is Not Everything
You might be having a good bunch of new users everyday, but do you think this is something to be excited about? I know you need users, but did you know that more than 65% of the app users do not even return the second day after the first day usage. What is the whole point in creating a strategy around acquisitions when you are finding it hard to keep users you already have!