If you understand the gravity of your passion, nothing can stop you from pursuing it.
Nitin Lama, one of our excellent Backend Drupal Developers, believes that with a combination of dedication, time management, and prioritization, you can pursue your passion alongside your job. His busy working hours don't stop him from creating music. Keeping his priorities straight, Nitin manages both his work and passion simultaneously, like a pro. In this article, Nitin talks about how he makes time for his music despite his long working hours.
A developer's approach to zen
Almost everyone agrees that music can be incredibly calming to the mind and soul. But given the pressure of a developer's nature of work, you think music can be somewhat misleading. But that's not the case for Nitin. He plays music, creates music, and lives and breathes music despite his tight working schedule. So, join us as we delve into Nitin's inspirational journey, both as a musician and a Backend Developer.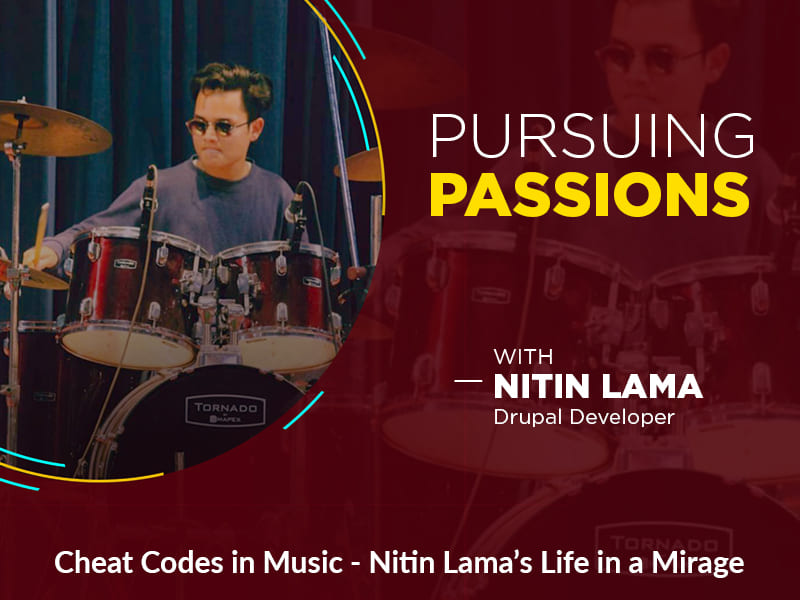 What is it like to work at Specbee?
Working in a good organization can have a positive impact on your work-life balance and enable you to follow your passions outside of work. These are the organizations that prioritize the well-being of their members and encourage a healthy work-life balance. This means that the team members are not only able to manage their workload but are also given the flexibility to pursue their interests and hobbies outside of work. Specbee recognizes the importance of their team members' personal lives and provides support to help them balance work and other commitments.
With a full-time remote job, what do you do to follow your passion?
Balancing a music passion with a full-time remote job can be challenging but rewarding. I believe dedication, time management, and prioritization are key. I usually try to find a balance between work and music. I take breaks after working hours, and then I get enough rest to record myself or to make a music piece. It's important to remember that progress takes time and consistent effort. Whether it's playing for your own enjoyment or performing for others, the love of music can bring joy and fulfillment to both your personal and professional life. I'd say, remember to enjoy the journey and keep the music playing!
What impact has it had on your overall development?
Music has had a positive impact on my overall performance in a variety of ways. As a developer,  intense concentration and attention to detail are essential. And listening to music has helped me reduce distractions and increase focus. It inspires my creativity and provides a sense of motivation, increases my productivity, and improves the quality of my work. Because of music, stress, and anxiety have been a 'NO zone' for me, which can be common among developers due to the high-pressure nature of their work. Listening to music while working creates a positive and enjoyable work environment, which also contributes to job satisfaction and my overall well-being. I think playing an instrument or singing can enhance cognitive abilities and improve hand-eye coordination. So, incorporating music into my life has not only led to improved mental health, but also enhanced creativity, and a greater sense of well-being.
At Specbee, we constantly try to create an environment of overall growth and empowerment, where our team members inspire and help each other in their journey. Ready to join the journey? Get in touch with us and send us your resume today at [email protected]. Or check out our open positions.
Here's to more such stories of following your passion!