"We shape our tools, and thereafter our tools shape us"— Marshall McLuhan
The above visionary observation from 50 years ago is relevant for today's digital marketers. If they want to be on top of the industry, they have to keep themselves updated with the latest tools of the trade. Today, the ambiguity in digital marketing is such that no marketer can afford to ignore the technological advancement in the industry.
While starting a business, entrepreneurs have to take care of various things such as company's name registration, product development, brochures with impressive  graphic designs, human resource, etc. to mark their presence in the industry. All these involve a lot of costs and time that they might not be able to spend on advertising.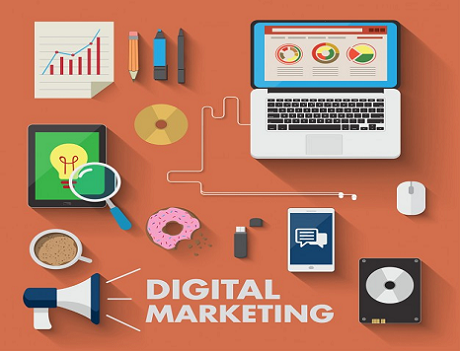 The best part is that there are plenty of free digital marketing tools available on the internet today that can help entrepreneurs to grow their business. Gone are the days when companies can afford to ignore the internet. In order to grow in the industry, it has become essential to the companies to have a good digital marketing plan — social media strategies, SEO strategies, etc. In this post, we will discuss 20 must-have digital marketing tools that can help businesses to grow fast. You might be familiar with some of these tools. But to simplify your social media efforts and project management, each of them can help you gain the competitive edge you are after.
Are you ready? Let's begin:
1. Hootsuite:
This tool helps you in managing the accounts of all social media profiles at one place. It makes your social presence active with features like automatic scheduling the posts, managing content and measuring the conversions.
2. Visual Website Optimizer:
It is also one of the leading A/B testing and conversion optimization tool that helps businesses to improve conversion rate by quickly streamlining the process and experimenting with elements of pages such as graphic designs, headlines, etc.
3. GetResponse:
It is an email marketing platform which offers customized solutions to the businesses. If you want to build target subscriber lists, create newsletters with impressive graphic designs, etc. then this tool is for you. The delivery rate of this tool is 99% which is considered to be the highest in the industry
4. MailChimp:
It is yet another email marketing platform where you can automate your emails, save and share the analytics, track subscribers, and manage campaign schedule. It comes with "Forever Free" plan which allows its users to send 12,000 emails in a month to 2000 subscribers for free.
5. Vertical Response:
It is a great marketing tool that comes with plenty of graphic designs for newsletter templates. It also offers editing and integration of various software. Apart from this, you can also create landing pages, do A/B testing and much more.
6. Nanigans:
It is a multichannel advertising software that is best known for the automation of Facebook ads. It has access to Facebook Exchange (FBX) and other tools that enables marketers to reach target clients more efficiently.
7. FB Power Editor:
This tool is used to create, edit, and manage a large number of ads and campaigns running across all the accounts or platforms.
8. Twitter Native Platform:
It is a solution that reaches new potential audiences, gains more followers and measures results in real-time. Marketers will pay only when users like their account, re-tweet, reply, etc. There is no minimum spent limit, and marketers can start and stop the campaigns at any time.
9. Optimizely:
It is one of the major A/B testing tools that help businesses to quickly learn more about audience by experimenting with design and content. From this, they can make their websites and apps more effective, and improve their conversions on any platform.
10. Wyng:
This tool provides you a platform where you can engage with your customers in a fun way with contests, polls, hashtag campaigns and more. Additionally, it provides an easy-to-use inbuilt dashboard that monitors the performance of all the campaigns.
11. Canva:
This is an online graphic designs tool that allows its users to create social media posts, presentations, print materials, etc. Both professionals and non-designers can use this tool. This tool gives them the option to either upload their own photos or choose from the templates.
12. Vimeo:
It is a leading video sharing platform which allows its users to host, share and sell high-quality videos with millions of viewers. Since it is more of a professional network, the community finds the content and discussions useful as compared to YouTube.
13. Moz:
It is all in one SEO tool that helps marketers to do keyword research, website audit, built additional backlinks and much more to improve and increase their business ranking.
14. Feedly:
It is the most popular tool that allows you to keep all the blogs, publications, topics of your interest at one place. You can integrate Feedly feed with your social media tools and share the articles with your followers.
15. Scoop it:
This tool helps businesses to search and save the content from online sources. They can also edit content and share it in all their social media platforms.
16. Kissmetrics:
It is a platform that allows you to track and fetch the report of the number of visitors throughout their entire conversion journey. This helps you in making better strategies and increasing sales.
17. Google Analytics:
It is the most popular service provided by Google where you can analyze the data of your business at one place. You can easily track how many visitors are currently live on the website and what are they doing on your site.
18. Zendesk:
It is one of the fantastic help desk tools that aggregates all the communication channels at one place; making it simple for the support team to build the best customer experience.
19. CJ Affiliate:
It is an excellent marketplace for independent blog owners who look for affiliate programs offered by online brands to promote their products and earn money.
20. SEMRush:
It is a favorite digital marketing tool among all the marketers. This powerful tool helps businesses to focus on competitors work. It also helps them to build the best digital marketing strategies by doing keyword research, site audit, competitor's analysis, etc.
Conclusion
No matter which discipline of digital marketing you focus on, there are going to be hundreds of tools available to make your work easier. When considering which tool to use, it is important to determine your specific goals first. Once you are clear about your goals, it will be easy for you to choose the best tool for your business.