As you know, content is one of the most important ranking factors of your website, but it's the unique and well optimized content that ranks higher on Search Engine Results Pages (SERPs). We'll get into optimizing, but we'd be skipping a step if we didn't note that before you get started writing and optimizing your content, the first thing to do is to identify the purpose of it. Some examples might be to gain more backlinks, rank in SERPs, educate your users, drive social engagement or generate leads. Once you've identified your purpose, you can move on to content optimization which is, luckily, one of the easiest ways to improve your SEO ranking. In this article, you will learn about our top 11 tips and tricks on writing optimized content for your audience and search engines.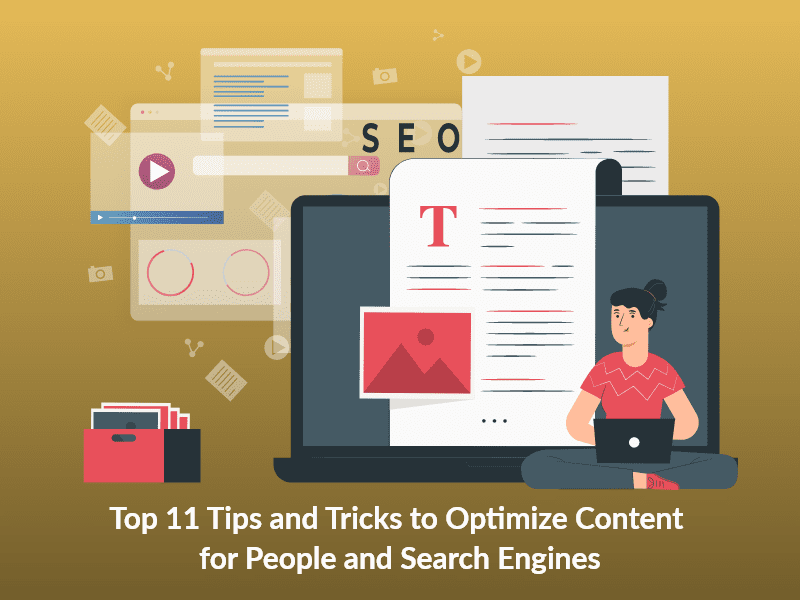 1. Target Keywords Steal the Spotlight
Keyword Research 
Determine the keywords related to your content
Understand about supporting content
Target content to specific keywords
When you plan on writing an article or piece of content, the first thing to do is thorough keyword research. Keyword research will help you determine the set of keywords being searched about your topic. Once you find the keywords you'll be targeting, you will have to define what kind of content you are going to write. Is it pillar content (content you will use to establish authority) or supporting copy based on other content? With the content type decided, you can map the keywords. 
For keyword research there are multiple tools available online like Google Keyword planner, Moz keyword explorer, etc. If you target your content to a specific keyword from the start it will help your rank. Use those tools for keyword research and decide what works as supporting content and what could work as main cornerstone content.
2. Keywords for your Key Tags
Use target keywords
Main keyword at the start of the title
Description - Main keyword and informative
Your key tags are the Title and the Meta description tags. They're one of the best places to target your keyword. Add your targeted keyword in the first half of the title. In the second half of the title you can use different variants to increase the click through rate.
Meta description is an important element for a well optimized page. Your meta description can help increase the click through rate by making it clear to the visitor what your content is about. You'll also want to make sure to include your target keyword in the description. It's a tricky balance, but it should be written in a way that encourages users to click on your page as well as drive the users intent with a call to action. Remember to keep the meta description under 160 characters and title tag under 60 characters to avoid truncation.
3. Writing Friendly URLs
Search engine friendly and Understandable URL structure
Avoid complex & confusing structure
Use short & keyword optimized URL
URLs should be understandable for humans as well as for search engines. Use clean, search engine friendly URL structure with the target keyword(s) included in the URL. The URL must be short and, just by glancing at the URL, your visitors and search engines should understand what your content is about. Try to use 3 to 5 words in the URL. If it's longer than that, you likely won't get much credit with Google's algorithm.
4. The Importance of Header Tags & Content
Title in H1 tag
Subheadings in H2, H3,.....H6
Use target keyword in the first paragraph
Use bullet points
In most Content Management Systems (CMS) like Drupal, Wordpress, etc. H1 tags are used as the main title of the page. To write a good optimized title, use the target keyword in a title that describes your content in a way that encourages users to read it.
Now that you have used the H1 tag for your title, use the H2 tag for subheadings and H3 to H6 tags for other subheadings.
It is extremely important to use the main target keywords within the content and it's good practice to have it in the first paragraph. Here's the hardest part - placing your target keywords naturally within the content flow. Never force it by writing hard-to-read content for the sake of including the keyword. One thing to consider is using bullet points to make important things readable and understandable for the visitor.
5. Use Optimized Visual Content
Make content easier to read - Use Infographics
Use optimized images
Embed videos from youtube, vimeo and other video streaming platforms.
It probably goes without saying that images and videos are a great way to make your content consumable. Visual content also engages the audience and helps increase the visit time. Specifically, infographic images or videos in your content will have the biggest impact.
The downside to this is that visual content can make your website heavy. Try to compress the images before uploading and give proper and relevant alternate text for the images and videos. Embedding videos from Youtube, Vimeo or any other streaming platforms instead of uploading video to your server will help reduce page load time. A well optimized video and image will help improve the site performance and load the page faster.
6. Link It
Link to relevant source
Link to anything that adds value to the user
Use keywords in the anchor text
Internal linking is one of the most important factors in creating content. Internal links will help users and search engines navigate to relevant subtopics. In most cases, you'll want to use relevant target keywords in the anchor text to interlink the pages within your site.
That said, don't be afraid of linking to external sources. You should link to any external sources that provide value to your content. For example, if you are using a statistic, it is always a good idea to link back to the source. In fact, linking external sources will help search engines to understand the relevancy of your content and thus boost your SEO ranking.
7. Responsive Designs
Since Google has moved to mobile first indexing, it's critical that your content is responsive on mobile devices. If your site is already responsive or has a mobile version then make sure to test out how your content is getting displayed across mobile devices. In most cases it's more important for your content to look correct there than on a desktop.
8. Accelerated Page Speed
As you may already know, page speed is one of the important ranking factors for mobile search. To put it simply, your page needs to load fast. Keep in mind that images and videos play a major role in page speed, so try to optimize all your visual content on the page.
You can use GTmetrix and Google's page speed insight tools to check your page speed. They also give suggestions for improvement.
9. Content Quality or Quantity?
Enough depth to properly cover the topic
Unique & educational content
Conclusion/Final thoughts
When it comes to how many words your content should contain there's no right or wrong answer. The reality is you shouldn't worry about the length of the content. Just try to cover your topic in depth and always focus on quality rather than quantity. 
Hopefully it doesn't need to be said, but publish unique content that educates your users and serves the users intent for visiting. At the end of your writing, add a conclusion or final thoughts which helps support that the content is structured properly.
10. Make them Click
Though it is not considered as a ranking factor, it's important to have a call to action in the content. For example, if your goal is to get visitors to want to know more about you or to work with your organization, the ability for them to do so should be extremely obvious and easy. You can provide a contact form, email id, phone number or a subscribe form near the top or wherever is easily viewable in the page. Even if you're doing well on your SEO, poor call to action can waste all that good traffic.
11. Socially Shareable
Adding social share buttons in the content will give your users the option to directly share the content with their social network. Most of the CMSes like Drupal provide an option to have social share buttons once you publish the content. If not, you can get it added to your website. A couple things you'll need to make sure to include are optimized social meta tags with OpenGraph and Twitter card tags. Always test that the correct image and descriptions are shown in social media while sharing the content.