As I sit down to write this piece, I can only think of Coco Chanel's quote, which will give you a gist of this article. "The best things in life are free. The second best things are very, very expensive". In this article, we are going to compare Drupal - the powerful free and open-source content management framework, with other proprietary CMSs like AEM, Oracle WebCenter, and SiteCore.
The choice between a proprietary CMS and an open-source CMS usually depends on the organization's requirements for features, budget for technology spend, traffic, and support expectations. While there are tons of advantages and disadvantages of each of these CMSs, take a look at the below table for a few of their features.
  Proprietary CMS

  Open-source CMS

Built and maintained by a single company
Developed and maintained by a community
Source code is private
Publicly available source code
Acquired by paying a license fee. Pay per
customization and additional users
Zero license fee. Pay per resource/agency for customizations.
Slower support and new updates 
Fast and easy support and frequently updated releases because of the large community.
Closed development and lack of clarity on the code
Transparency in terms of code quality and bug fixes
If you have been assigned the arduous task of choosing a good CMS that can meet all your business needs, it might be hard to convince into a free, open-source CMS like Drupal. Mid to enterprise-level organizations normally believe that quality comes with a huge price tag. But that is not always true and absolutely invalid with a CMS like Drupal.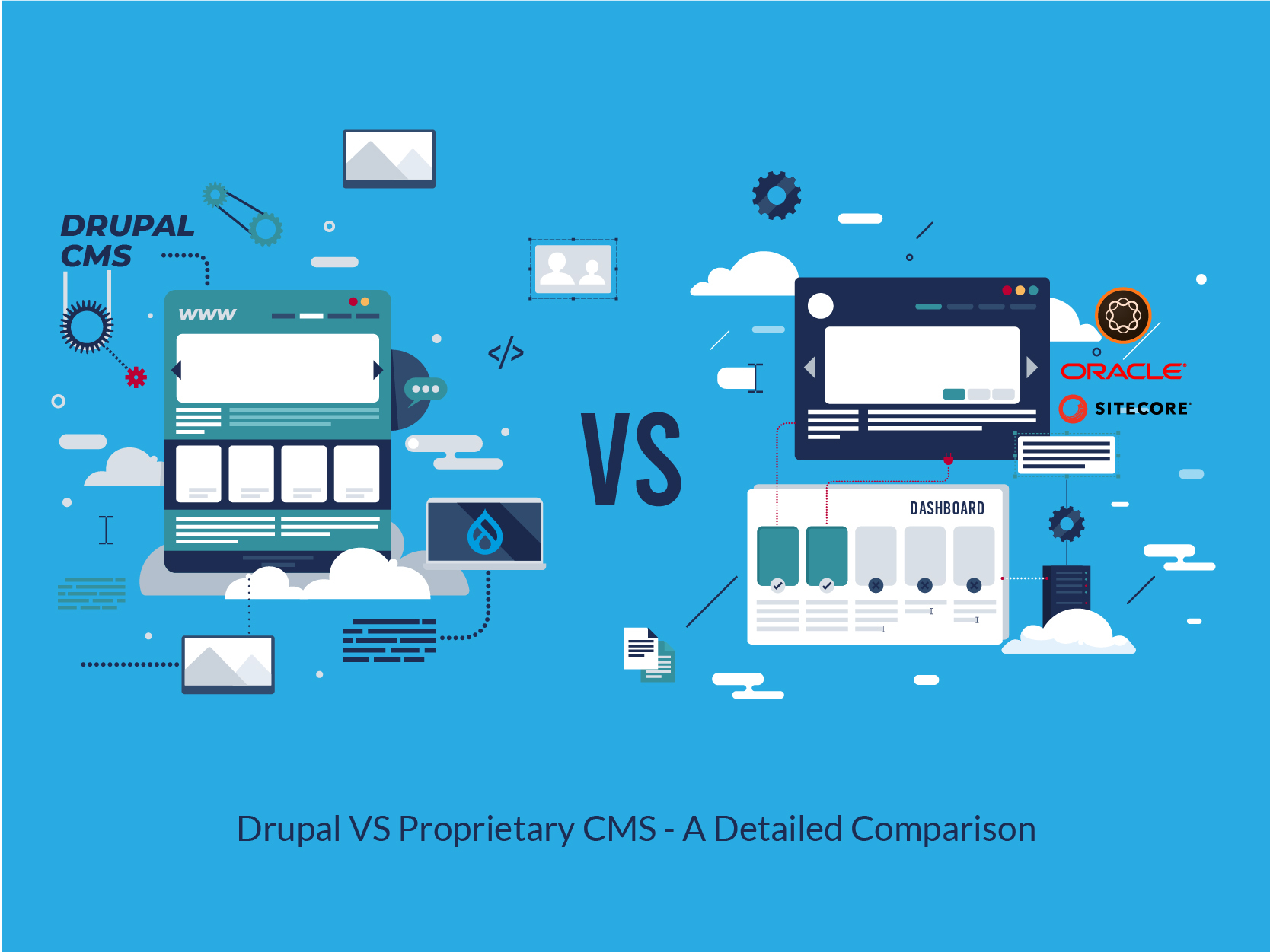 Ease of use and customization
Choosing a CMS just because it is popular isn't a great idea. You will need to find a CMS platform that is able to conform to your business model and grow with it. It should be tailored to support the business needs of your organization and also easy to use. One of the most important reasons for going with a CMS is to ensure easy updating of content.
AEM – Is a Web Content Management System that lets you build and manage multiple websites with ease. For content authors and web administrators, it is very helpful as the interface is similar to MS Word. It has some cool drag-and-drop features that make it easy to use even for a non-technical person. The authoring experience is very intuitive and slick. Installation and setup tend to get a bit tedious and finding a developer to help you out with it is comparatively difficult and expensive. AEM is based on Java and hence any customizations will need highly experienced developers.
Oracle WebCenter Sites – Lets you easily create and manage targeted and interactive online experiences while optimizing customer engagement. Content editors have the capabilities of previewing the content without leaving the platform. With very limited drag-and-drop capabilities, the admin user interface does not provide many options for configurations and seems very outdated. Customization possibilities are immense if you have skilled engineers with substantial experience in application server, ADF, and of course Java and the web. Managing the code in the JSP files can seem to get a bit difficult as the tags and scriptlets are blended together.
SiteCore – Is a .NET based Web Content Management System with which you can store, manage, analyze, and update your website content in a single platform. Comes loaded with tons of features for organizations looking for personalization, analytics, A/B testing, marketing webforms and more. It allows multiple content authors to edit and authorize content at the same time. The user interface for content authors and admins is very user-friendly and lets you drag and drop various reusable elements onto a page including JS widgets, images, text, and videos. It is very customizable too which is great for businesses with unique requirements. However, finding a certified Sitecore developer is not an easy task and also very expensive.
Drupal – Drupal is an open-source content management framework that lets you create and manage powerful websites. It has great features to use out-of-the-box itself or can be easily customized with thousands of freely available modules to suit every business requirement. There's tons of room for scaling and customizing a Drupal website. The learning curve is a bit steep and finding Drupal talent was not very easy. However, this has changed since Drupal 8 and its adoption of continuous innovation and modern frameworks like Symfony and object-oriented programming structure. Drupal 8 also provides a very clean and user-friendly content authoring experience with its WYSIWYG and drag-and-drop interfaces. There are a plethora of free themes to choose from that are easily customizable.
Features and Integrations
Your ideal CMS should provide you with everything your business needs out-of-the-box but that's wishing for a little too much. Look for a CMS that can provide you with maximum features where you don't need much third party integrations to do your job. Or a CMS that can easily integrate with external modules and integrations needed for your business.
AEM – AEM has some exciting features like a drag-and-drop UI for content authoring, a well arranged visual site-map, layout manager, calendar views for projects and tasks, re-usable content via Experience fragments, Touch UI, template editor, publication management, activity map integration, side-by-side page preview, assets search functionality, exclusive check-in check-out, user-profile integration, online revision clean-up, Mobile content services, etc. For extensive customizations, AEM allows for easy integrations with Adobe Marketing Cloud's components like Adobe Analytics, Adobe Target (continuous assessment of content to be more relevant for more conversions), Adobe Scene7 (media management, web publishing, and enhanced web experiences made easy), Adobe Dynamic Tag Management (an intuitive tool for marketers), Adobe Search & Promote (to control and optimize search results) and Adobe Campaign (easily manage email delivery content). In addition to this you can also integrate AEM with third-parties like Amazon web services, Salesforce, Silverpop engage, Youtube, Facebook, ExactTarget, etc. However, AEM is not as tightly integrated with other third-party modules as it is with Adobe products.
Oracle WebCenter Sites – With features like Document management (Document preview, version control, image editing, watermarking, video editing, document collaboration, etc.), records management, file sharing, searching abilities (by metadata and keyword), workflow management, create-customize-extract forms, advanced security features (audit trails, role-based access, 259- bit encryptions, etc.) Oracle WebCenter Sites also allows for integrations with Wordpress, Outlook, Sharepoint, MS Office, CRM, ERP, Social media, Calendar Apps, etc. However, integration with other components is not very simple and needs skilled developers for the same.
SiteCore – Some of SiteCore's features are made for sales and marketing executives, like Advanced editorial experiences, multilingual websites, personalization, AB testing, highly configurable security features, search engine optimization, analytics, print experience manager, web forms for marketers, marketing automation, social media marketing tools, etc. Sitecore's Connectors ensure that your website integrates with third-party solutions easily and fast. Like SiteCore commerce connect, SalesForce, MS Dynamics 365, MS Dynamics CRM, Adobe In- Design, Google +, Visual Studio, FaceBook, Twitter, Brightcove and many more. All in all, SiteCore is a great tool when businesses need tons of integrations.
Drupal – A powerful set of out-of-the-box features and access to countless freely available add-on modules, makes Drupal the most preferred CMS. It comes with out of-the-box features like intuitive content authoring, rich text editor, easy approval routing process, storage and management of assets, search functionality, granular security features, thousands of templates to choose from, mobile-first approach, search engine optimization functionality, flexible taxonomies, multilingual, user role management, dashboards & reports, API integrations and much more. Some add-on modules that are almost absolutely necessary for most Drupal websites are CTools (set of APIs that assist other modules), Views (organizes Drupal content), Token (creates re-usable patters across your website), PathAuto (helps generate SEO keyword rich URLs), Webform (used for accepting any kind of forms), CKEditor (provides a WYSIWYG editor), etc.
Drupal also seamlessly integrates with almost any third-party solution available like CivicCRM, Salesforce, Marketo, Sharepoint, Alfresco, Magento, Ubercart, Payment gateways, Disqus, Wepay, HER/EMR systems, Google analytics and apps, LDAP, Opigno, Mailchimp, Wordpress, Joomla, Surveymonkey and the list can just go on. Being an open-source content management framework having over a lakh of active contributors, there really isn't a feature or integration that Drupal does not already have. For extremely unique and specific business functionalities, of course, you can easily hire a Drupal developer.
Pricing and Support
Robert Genn, a renowned Canadian artist once quoted "A high price may be part of the mystique in selling difficult art". You should be able to get true value for the price you pay for a CMS. Being expensive doesn't make it fit for "enterprises".
AEM – According to Gartner Inc., AEM is one of the more expensive CMSs in the market, almost twice the price of its closest competitor. The total implementation cost comes close to $2m including licensing. There is a lack of experts who can implement and support AEM for your website while the Adobe support team pushes you into buying more service contracts or products to be able to help you further.
Oracle WebCenter Sites – The power and flexibility of Oracle WebCenter Sites does not come cheap. According to Oracle, the licensing costs is currently $100,000 per processor. Additionally, the first year of Oracle support is about $20,000. Having an excellent support with experienced staff and 24/7 support is great but covers only the core product. Any customizations or extensions will not be covered by support and you will need to hire not-so-easily-available developers.
SiteCore – SiteCore's licensing fees starts at $40,000 with $8000 fee for every additional year. Implementing costs starts at $65,000 while support and other fees cost about $10,000 per year. SiteCore users have had issues with technical support for the CMS lately.
Drupal – The best and the most notable feature of Drupal is that it is Free! There are absolutely no setup costs or licensing fees and is free to download and use. Being an open- source content management system, you have full access to documentation and support forums that is provided by a community of volunteers. Most of the contributed modules are free too! Of course there are development costs if you need customizations for your business requirements and hosting charges. Drupal's network of dedicated and helpful contributors are continuously working on issues and improvements that can help users immensely. Drupal developers are not difficult to find and hire either if you need customized support capabilities
Popularity with customers
Yes, popularity does not always guarantee quality but it is enough proof that there is a heavy demand for the product and it is selling well. The below figures are based on a latest report by BuiltWith as of December 2020.
AEM – AEM has powered over 106,125 websites.
Oracle WebCenter Sites – About 6,111 websites currently use Oracle WebCenter Sites.
SiteCore – 130,079 websites are powered by SiteCore CMS.
Drupal – Drupal hands down wins in the popularity category by powering 1,542,941 websites till date.