"Success is a continuous process." 
According to Malabya Tewari, our Drupal Practice Head, success is all about understanding the dichotomy between being happy and satisfied. In this article, he opens up about his career journey with Specbee and shares how his experiences have shaped his definition of success. Join us as we delve into Malabya's inspiring story.
Building a winning Drupal team
Your career is the outcome of your efforts and real-life experiences. And with each experience, you learn and you grow. We are inspired and motivated by such stories of growth.
 
Malabya has been in the Drupal development industry for more than 10 years, and he is an Acquia-certified Drupal developer. He leads the Drupal team at Specbee and introduces new best practices to continuously refine the development process.
"Working in a startup since the beginning of my career, it's always been the kick of building a team that has intrigued me. When I was offered the role of Drupal Practice Head at Specbee, one of the responsibilities was to build a squad of the best-in-the-industry Drupal developers. With my experience and expertise on the job, I took the role knowing the challenges, and I was ready for the hustle and the fun that came along with it."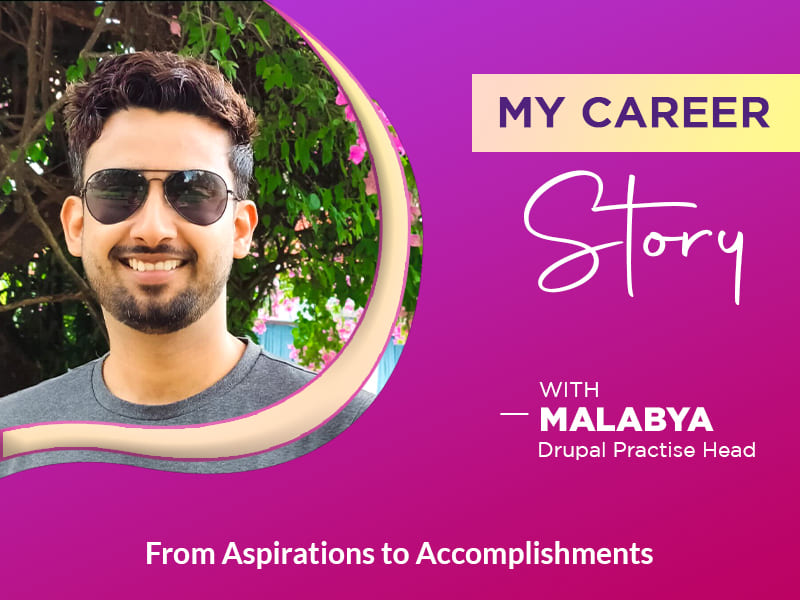 When you joined Specbee, what were your expectations?
"When switching jobs, I had 2 offers - one from a reputed American multinational information technology services company and one from Specbee. Though I was in a minor dilemma about what to do, things straightened out after my discussion with Prashanth & Ashirwad about the expectation of the role I was signing up for. I decided to join the Specbee team with the expectation of hustling my way through building a team that delivers."
How would you describe your career growth here?
"As the person I am, I don't believe much in climbing the career ladder and getting somewhere. Instead, I trust in the process of building myself with continuous learning and focus more on personal growth. This was my first time working in a leadership position, and I got to learn (and still learning) a lot about the nuances of leadership. I may have done some blunders in the past, but learning from my mistakes is always part of my daily growth approach. Working with Specbee has taught me the niceties of businesses and see things from a business point of view besides a developer's perspective. Also, it has made me more of a people person, where my primary focus stays on the benevolence of the team and working together to deliver while meeting the expectations of stakeholders."
What is the impact of this growth on your personal development?
"There are several impactful personal improvements that I've unlocked working with Specbee. Firstly, planning things. I have realized that failing to plan is planning to fail. Secondly, patience. I used to rush over things to wrap things up as soon as possible, which is not a sustainable method. Working with Specbee, I learned how to be patient with things, especially while working with a team. Thirdly, evolving as a team player and seeing the bigger picture rather than as an individual contributor, confined to a set of problems. Lastly, letting things go. I used to be quite upset & disappointed when someone leaves the team, but with time I have accepted that fact and moved on from these minuscule hiccups."
In your opinion, what does success look like?
"Success is understanding the dichotomy between being happy & satisfied. I am happy with the current working conditions, the team that we have, the work environment, the project releases, and the feats that Specbee is accomplishing. But I am not satisfied with any of it. Because once we're satisfied, we just stop progressing. Progressing to become better & doing things better. Neither results nor efforts make someone successful/unsuccessful. But success is determined based on the results after the effort and the satisfaction once you see the result. Cherish the result, but retrospect for the mistakes done during the process and rectify them for the next time. Success is a continuous process."
One minor push of inspiration and motivation can go a long way. Our team at Specbee continuously strives to make an impact, inspire each other, and grow together. Ready to join the journey? Get in touch with us and send us your resume today at [email protected]. Or check out our open positions.