"Success to me is Courage. Courage to take risks."
Shriganesh, our Director of Digital Strategy, strongly believes that learning is a continuous process. And with each lesson, pertinent or trivial, you grow a little in life. In this article, he talks about the journey of his career from the beginning and how his beliefs, determination, and persistence have contributed to his growth. So, join us as we dive deeper into Shriganesh's story of persistence.
Optimistically Challenging Success
Starting up your career with big goals can seem scary. But if you put your mind to it, nothing can stop you from reaching the summit of your goals.
Shriganesh has been with us for more than half a decade and with every passing year, he has only proven to be an asset to the team. As the Director of Digital Strategy, he often interacts with the marketing team, external clients, and internal leaders, bridging the gap between the company and its goals.
When you believe in yourself, you know that you can get things done. When others believe in you, you WILL get things done, no matter what. At Specbee, it is this belief that has helped me achieve, helped me grow, and helped me be a better person.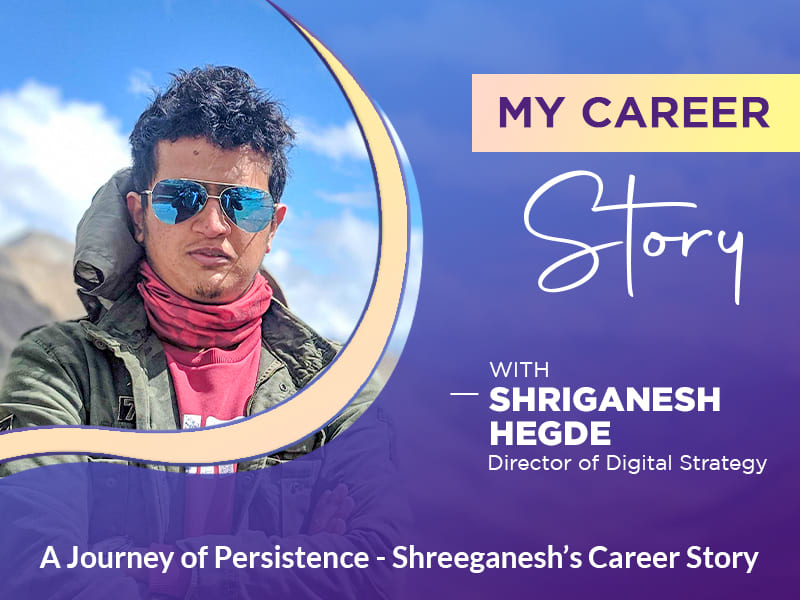 1. When you joined Specbee, what were your expectations?
I joined Specbee right after my graduation. As someone stepping into corporate life for the first time, my expectations were straightforward. I wanted to learn a lot. I wanted to grow, and I wanted each day at Specbee to be a learning experience.
2. How would you describe your career growth here?
Challenges in a career are inevitable. But being defeated is optional.
My career in Specbee has taught me how to face challenges and never back down! Over the last 6.5 years that I've been here, every day has been a new lesson, a new challenge, and a whole new experience! From being a college graduate to working with the best teams & clients from different parts of the world, I'm proud to say that I took the right first step in my career.
3. What is the impact of this growth on your personal development?
Having worked with wonderful and inspiring people for more than half a decade, my journey here has had a very positive impact on my personal development as well. Learning how to take up responsibilities has been a stand-out experience for me at Specbee. Additionally, with a perfect space for work-life balance, pursuing my love for traveling has helped me stay calm & focused on everything I do!
4. In your opinion, what does success look like?
Success to me is Courage. Courage to take risks. Courage to dust yourself off after you fail. Courage to do what you love! And I'm so happy to see this courage, and zeal in my team members, my colleagues, and everyone around me at Specbee!
Your strong determination and consistent efforts can make the tables turn for you. At Specbee, we continuously strive to be better than we are and motivate each other to walk toward our goals. Want to join the journey? Get in touch with us and send us your resume today at [email protected]. Or check out our open positions.