"Success lies in small wins."
Shreevidya, one of our star Project Managers, believes in trusting the process and the bright side of starting from scratch to reach your goal. In this article, she talks about the gap in her career and how it only motivated and strengthened her to come back to work with a bang. So, grab your reading glasses and join us to dive into Shreevidya's story of her inspirational journey.
Leaders Shine the Light
Balancing between your work and family can be challenging. But eventually, you pick up on things you once thought you never could. And with every surpassed challenge, you become a little more stronger and bolder. 
Shreevidya is one of our earliest team members and has been in the field of Drupal for a considerable amount of time and now, leads a team of Drupal developers at Specbee. Being a woman of principles, and setting an example herself, Shreevidya constantly motivates her team to be better than they are and puts forward her best foot to make valuable contributions in the field of Drupal.
Restarting your career after a 6 year break can be challenging. After having my second child, I was nervous about getting back to work. Specbee gave me an opportunity to return to my domain as a Developer, and now in retrospect, I think nothing would have turned out any better in my career.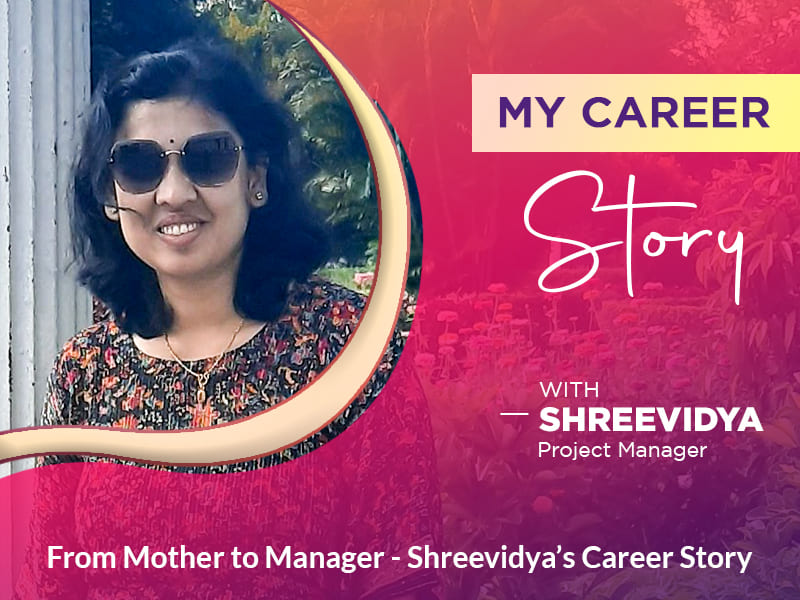 When you joined Specbee, what were your expectations?
Since there was a long break in my career trajectory, I had zero expectations starting off. I wanted to train myself to be eligible to set foot and walk along with the current standards. Once I was ready, my mentors gave me opportunities where I was able to prove my abilities and achieve my goals. 
How would you describe your career growth here?
Although I enjoyed development, I also had a keen interest in Quality Assurance testing. This interest led me to take up courses in QTP testing and Selenium testing. It gave me the confidence to work in the QA testing domain as well. I started handling various projects simultaneously. Such mass handling of projects helped me learn so much.
My experience as a Developer and a QA specialist while working on multiple projects groomed me for the next step in my career growth. I am now a Project Manager at Specbee and that is only the product of years of hard work, saying yes to growth, utmost commitment, and leadership qualities my peers have inspired me to practice at work and in life.
What is the impact of this growth on your personal development?
Through my experience in Specbee, I've learned and practiced the art of time management, and communication at work with a wide variety of people, gained more knowledge about my field of interest, and learned how to stay calm while working through a crisis. 
In your opinion, what does success look like?
To me, success lies in small wins. The team consistently achieving targets; Specbee consistently delivering top-notch work as per commitments; a team member going above and beyond to meet critical deadlines; my initiatives, leadership, commitment, and work-focus rubbing off in a positive way on my team.
Just one dream can show you many ways to achieve it. Our team at Specbee continuously strives to inspire and motivate each other to achieve their goals, and grow together. Ready to join the journey? Get in touch with us and send us your resume today at [email protected]. Or check out our open positions.