You've been hearing about mental wellness at the workplace long before the pandemic came in. But the pandemic introduced the new norm of working from home rather than going to the office. Beyond the general health concerns, from a "daily grind" perspective, what about the mental health conditions of workers now?
With the pandemic bringing more awareness about the importance of mental health, this became a major concern for remote workers and remote working companies.
Sure, the post-pandemic period gave birth to many remote companies. But remote working may seem like a dream to some. And adjusting to this trend may result in differences in habits and lifestyle changes.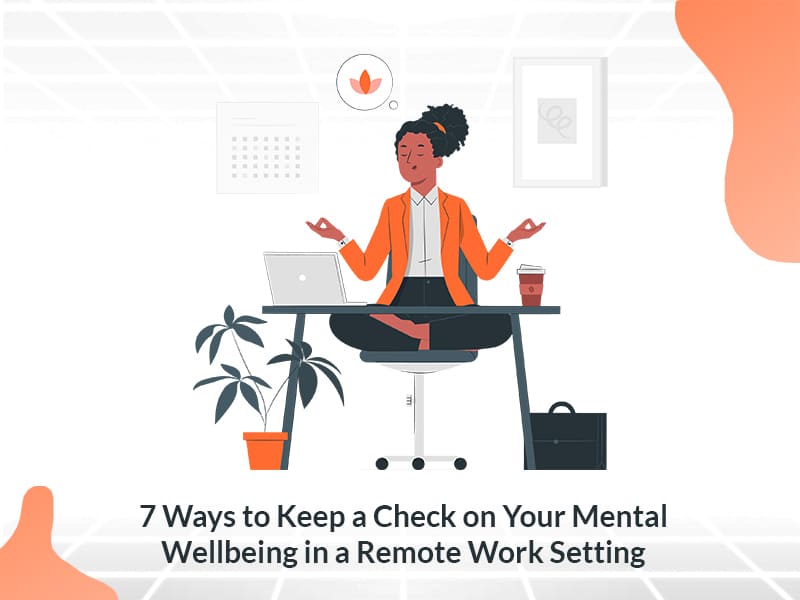 Initially, the Gen Z remote workers found it difficult to step into their careers at the onset of this trend. And the ambitious young workers grew anxious about their careers with those types of roadblocks.
So, the longer folks took time to adjust to this normalcy, the higher toll was on their mental health.
Take a look at these stats for better insights:
Stats on Mental Health for Remote Workers
22% of remote workers found it challenging to unplug from work
19% reported feeling isolated
8% of the young workers couldn't stay motivated
56% of newly transitioned remote workers find it difficult to adjust to the remote work setting
59% felt lonely at work
67% couldn't connect with their co-workers
With such conditions prevailing around the world, it's quite well-established that remote work and mental health are intertwined. Working remotely can take a toll on your mental health. So, it's important to take effective measures to counter these negative effects on your mental health.
How can you achieve better mental peace while working remotely? In this article, we talk about the ways you can establish a better remote working environment while being kind to yourself. Additionally, we also highlight the points of how remote work can impact your emotional and mental well-being.
How Can Working Remotely Impact Your Mental Wellbeing?
The sudden shift to the new remote work setting can be stressful for many employees. During the initial stages of remote work, employers witnessed a rapid increase in anxiety and depression among the employees, negatively affecting their mental health.
 
Here's how working from home affects the mental well-being of remote workers:
Loneliness and isolation: Employees feel disconnected from their peers unable to meet their necessary support. The sudden disconnect from colleagues can make employees feel stressed and anxious. They find it challenging to build a strong support network, which takes a toll on their mental health.
Increased workload while adaptation: Some find it difficult to adjust to remote work after working in the office for years. While trying to adapt to the new work setting, work starts piling up. Remote workers constantly feel tempted to work long hours. But not having a proper setup makes it difficult for them to distinguish between work and their personal life, thus affecting their work-life balance.
Virtual meetings increase the feelings of anxiety: When people work in an office, there are sometimes less formal meetings. The reason is that they connect on a daily basis and can work things out without organizing a meeting every day. But remote work has increased the need to organize daily virtual meetings to stay on track with the team's progress. The inability to connect in person and the idea of sitting for these virtual meetings increase fatigue and trigger feelings of isolation.
7 Tips to Stay Mentally Healthy While Working Remotely
Remote work can have negative impacts on your mental health. But does that mean working from home is bad for your mental wellbeing? No. Absolutely not. Use these seven effective tips to help achieve a better work-life balance and a better mental state.
Set Up a Comfortable Workplace
Creating physical boundaries around your working area can help set your mind to work. If possible, set up your workplace in an area with a door you can close while working. This way, you can eliminate all the distractions outside the door and finish your work in the dedicated time slot without any disturbance.
Make sure that your spouse, kids, or other family members know your work desk and don't bother you when they see you at your work desk. Additionally, try to use noise-canceling earphones to stay focused at work and minimize any outside noise while attending work calls.
Maintain a Healthy Work Routine
Muscle memory can help with fatigue. When you work in a particular order every day, your muscles get habituated to the schedule and work accordingly.
Train your body to wake up in the morning at the same time every day for work. Meditate, read a book, practice mindfulness and start your day on a fresh note. Get your coffee, do your daily chores, spend time with your pets, and cook for yourself and your kids at the set time every day.
Be consistent with this routine. This way, you create a psychological barrier and maintain a healthy work-life balance. Additionally, it will help you stay motivated and organized at work. Release all the unnecessary work stress on your mental wellbeing.
Encourage Physical Wellness
Your physical health affects your mental well-being. Your mind is connected to the body, and any impact on either of them affects the other. That being said, staying physically fit helps you maintain a healthy mind and body.
Being stuck at home can make it a little too easy to be lazy. But that's a battle you can overcome on your own terms. Practice yoga, go for a run, go to the gym, and meditate on a regular basis. Exercising every day will release endorphins in your body and keep you feeling active all day.
At Specbee, we encourage our employees to practice yoga and take care of their mental health by offering weekly yoga sessions conducted by experts. We also have occasional Nutrition Consultation Programs and Stress Management Practices. Apart from these, everyone in the team is covered with an extensive Health Insurance plan. We understand the value of our employees' overall health and take possible initiatives for their well-being.
Build Virtual Connections
Zero human interaction can be a major cause of depression and feelings of loneliness and isolation.
Working remotely may feel like there are limited or zero interactions between employees. But reality is, you get what you put into it. Using the right tools and approaches, you can easily bridge the communication gap between you and your peers at work.
Plan your social interactions while working remotely. Staying connected to your colleagues while working from home helps build motivation and stay productive. Starting the day with a casual conversation with your colleagues can set the tone for the rest of the working day.
Slack, Teams, Google Meet, etc., are some of the social platforms that let you stay virtually connected to your colleagues while working.
At Specbee, we have a casual conversation channel on Slack, our medium of communication, where every one of us can post anything we want. It can be a casual conversation striker or a random joke or meme. This helps set a casual tone at work and feel at ease while making work seem fun with colleagues.
Create Healthy Boundaries
It can often get challenging to draw a line between work and personal life when working from home. Consequently, remote workers end up working longer hours and may forget to have a life outside of work.
To avoid these blurred lines between work and life, establish firm boundaries to have a good balance between work and life. This will help you respect your own time and energy.
Make sure that your colleagues do not bother you once you sign off work, and you should do the same. Snooze your Slack notifications outside of your work hours. Once you sign off your daily duties at work, make sure to spend the rest of your time with yourself and your family.
Take Frequent Breaks
It is very easy to skip breaks when working from home. Remote workers should take short breaks more frequently. This helps you stay focused at work and improve your productivity levels without burning you out.
Go for a walk, grab a cup of coffee, listen to music, and do stuff that makes you feel alive. When you indulge in such activities from time to time, it keeps you going and focus on work better.
Don't just sit in your chair the whole time. Stretch your body, do some chair workouts while you're on your break, or even do some breathing exercises. This will charge your body and prevent it from burning out.
At Specbee, we practice accountability. We keep our team informed about our availability and respect each other's work bandwidth. We check in on each other from time to time and keep each other updated about the progress so that everyone can take that break and have some time to themselves.
Ask for Help
It's never too late to ask for help. And there's nothing to hesitate about if and when you need an extra hand to finish your work. It is normal to feel pressure sometimes if you feel you could use someone's help, if you need someone to clear your queries, or if you feel clueless at some point.
Don't let yourself feel like you're the only one on the island. Feeling pressure and asking for help is completely normal. Feeling isolated and keeping it to oneself will only induce anxiety and depression.
Make time to reach out to your team and talk about matters that seem challenging to you or if you could use a second opinion on something. You need that connection with your peers at work.
At Specbee, we try to maintain an open atmosphere where everyone feels welcomed and doesn't hesitate to express their suggestions or problems. We believe such an atmosphere is important to establish a healthy remote working environment.
Source for Stats
Final Thoughts - It's Okay to NOT be Okay
When talking about mental health, there's only one perfect way, to sum up everything - It's okay to not be okay!
It really is. Be kind to yourself. As remote workers, it's important for you to know that it can get difficult if you don't maintain a balance between work and life. Inconsistency in this balance can take a toll on your mental health. And only you can prevent that from happening. 
Be realistic. Learn to say no to things that feel too much for you to handle. Follow the tips in this article to take care of your mental wellbeing. And while you do so, don't forget to keep yourself hydrated!