With the ever-changing digital landscape, consumer demands are steeping. Most traditional consumers expect to have customized experiences from website layouts over multiple devices. In other words, if you visit on your mobile device, your experience will be catered to touch screen interaction and vice/versa for desktop.
A lot of the big guns in the market rely on modern content management systems that can mutate with the developing technologies.
Which is one of the reasons why Drupal is a high-in-demand CMS in this dynamic online ecosystem. With more than 1.7 million websites, Drupal has thrived to be the consistent choice of many businesses and organizations such as Tesla, NASA, NCAA, among many others.
Seeing those kinds of trends and growth, many companies not using Drupal might wonder about its standing in the world. Here are some examples of what many non-users might already know about Drupal:
Drupal is an open-source CMS platform providing interactive website layouts for small-to-large businesses and organizations.
It has a huge library of community-built and supported code and modules.
As a CMS, Drupal is highly scalable.
But there is so much more to it!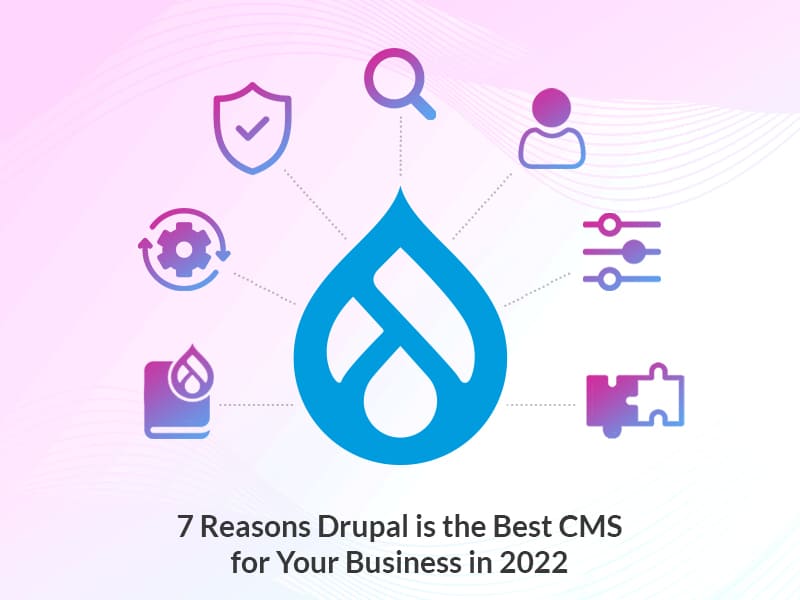 This article talks about the most important things you should know about Drupal to better understand its value and to help validate it with your team. Keep reading to find out how Drupal can help you continuously modernize with the current and future consumer needs.
Why Drupal Might be the Best CMS for Your Business?
You already know the basics about Drupal and its advantages on the outside. Let's acquaint you with some in-depth out-of-the-box advantages that can be beneficial for your business in 2022.
Security
When you plan to grow your business, it's recommended to have all your content stacked together on one platform. That requires high security to ensure your data is well protected and secure on your website.
Drupal has a dedicated team of security experts who monitor and solve all the security issues reported to their Security Advisory. Additionally, the growing Drupal community is always on the watch-out for bad or infected codes, constantly checking for vulnerabilities. 
Drupal's security is also enhanced by a variety of core and contributed modules that support two-factor authentication, password security, and out-of-the-box password encryption capabilities.
Open Source Community
Drupal, being an open-source software platform, has a large community of developers. This is also why it becomes easier to get your issues solved in challenging circumstances. 
Additionally, the community includes developers and various technical professionals. The Drupal community is constantly working towards building thousands of Drupal modules that you'll find in Drupal's module library. Drupal modules are collections of files entitled to certain functionalities that are written using PHP. Besides these modules, the community also works with many third-party vendors.
Third-Party Integrations
Businesses rely on dynamic content to market across various channels. For this purpose, you need a trustworthy and effective web CMS that can keep you updated with the latest sales and tech customer engagement trends. 
The most basic reason for relying on a CMS is efficient productivity via marketing automation strategies. Drupal makes it easier to integrate with popular marketing tools, such as Hubspot, Marketo, Webform, Eloqua, etc.
Drupal is the solution for eCommerce platforms as well. It has made it super easy for companies like Tesla, Motorola, Puma, Magento, and IBM WebSphere Commerce to drive better sales through customer acquisition and retention methods.
Extensibility via APIs:
Apart from third-party integrations, every modern CMS needs extensive access to a robust collection of APIs. Such a collection helps enhance and integrate all the needs of your customer's journey. For example:
RESTful Web Services API - It supports a decoupled Drupal site, integration with web services, and powers communication among native iOS and Android apps and Drupal sites.
Translation API - It's the API that adjusts the language of the website depending on the user's geolocation.
JSON API - This module uses JSON to serialize and communicate on your website.
In addition to these APIs, Drupal's architecture is designed and molded with Drupal's API, querying, and GraphQL, along with microservices models. All customers, developers, and admins can benefit from using these tools and features to improve user experiences.
Customized User Experiences
Drupal delivers custom experiences, unlike the cookie-cutter solutions you might come across these days. Using Drupal, businesses and organizations can meet customers' needs while leading them toward impactful purchasing decisions.
 
How does Drupal do it? Drupal comes with many built-in and contributed modules that offer some of the most robust features on the market. Take a look at this list of some specs you'll find in Drupal:
Personalization - You can access several personalization modules for Drupal like Commerce Recommender, Smart Content module, Acquia Lift Connector integration module, Browsing History Recommender, Context-Menu Block, and even the Personalization Module.
Flexible Marketing Campaign Layouts - Drupal core provides an amazing Layout Builder module to fulfill all your visual design requirements for your marketing campaigns. With multiple ways to distribute customer-centric experiences, you can customize and build consistent and flexible landing pages.
Multilingual Functionality - The latest version of Drupal core allows you to translate and personalize your site to the user's ease of understanding by changing the language depending on the user's geolocation.
WYSIWYG Editor - Drupal makes it very easy to preview the content you're uploading, make edits in the text editor and review them before publishing. It simplifies the integration of content with other editors, including HTML editors, pseudo-editors, and even Flash-based applications. 
Built-in Block System - With Drupal, it becomes quicker and easier to change the appearance of the content, be it text, image, or the layout, shape, and size of the blocks of a particular area or region by clicking on a button Place Block. Using the Custom Block module, you can build custom blocks for your UI, maintaining content uniformity throughout your website.
Using Drupal can guarantee you a solid working ground, giving enhanced UX and UI designs that are presentable and customized.
Drupal Modules
Besides using the custom features for Drupal websites, you also get access to the Lego-like framework that allows for personal customization. Hundreds of thousands of members of the Drupal community contribute to its big module library.
With contributions coming from everyone and anyone in the Drupal community, businesses and organizations can select from a huge repository of website features such as Admin Toolbar, Layout Builder, Drupal GraphQL Module, CAPTCHA, Google Analytics, ShareThis, and meta tag plugins.
Effective Editorial Workflows
Almost all the organizations using Drupal value its effectiveness in editorial workflows. Its content moderation and configuration features allow you to use it effectively by reviewing and approving the content before publishing it on the website. Developers can remove, pull, and make changes to the content using the configuration management facilities.
Additionally, the scalability and compatibility of Drupal as a CMS make it secure as your business grows through your website. You can simply manage multiple data contents in real-time, ensuring no downtime or availability issues come up during data surges. 
Thus, you can expect modern website designs via Drupal even in the bustling traffic of online ecosystems.
SEO Friendliness
The purpose behind marketing your content for your business is to get more and more reach by the day. And this purpose can only be fulfilled with the best Search Engine Optimization (SEO) practices implemented. Google SERP is crucial for growing your business.
Yes, that's right! Drupal also poses as a great tool to make your website SEO friendly to enhance your organic traffic.
Drupal is a robust content management system that ensures your website's search engine optimization using its modules. It provides a set of pre-installed SEO automation tools to help control all the elements of your website resulting it at the top search ranks of SEO-friendly CMSs. Here's how it does that:
SEO-friendly URLs -  As a process directly built into the core of Drupal, you can create SEO-friendly URLs for different websites. So, a website URL that was originally "website.com?p=news&id=123" becomes "website.com/news/article-title" with Drupal using SEO best practices. With Drupal, curating SEO-friendly URLs becomes effortlessly easy.
Highly Effective Taxonomy - With Drupal, it becomes very easy to categorize everything with the built-in taxonomy system. You can organize and tag content with rich keywords easily. Categorization is a critical element of a search engine optimized website and with Drupal's flexible taxonomy, organization and categorization become simply easy to use. 
Page Titles - The page title of your website is one of the most important elements to enhance your website's SEO. It attracts the attention of search engines and helps rank better in search results. Drupal provides a page title module to help you create interesting page titles automatically.
Meta Tags - Meta tags were previously critical in helping your website reach the top of the first page of search results. Although it may no longer be as influential, using effective meta tags can help in terms of SEO for your website if you choose to do so.
The Launch of Drupal 10
Drupal 10 is all set for its big release in December 2022.
Drupal 10 will be built on Drupal 9, delivering an out-of-the-box user experience. It will be featuring its frontend theme, Olivero, built into Drupal's core by default. With the intent of providing a modern look and feel, Olivero is the only frontend accessible theme that Drupal has ever shipped.
And the new backend theme, Claro, is stable and will be simplifying the content creation, moderation, and editorial workflows of the users. 
All in all, Drupal 10 is set to make the lives of Drupal developers easier and help them build customized digital experiences.
Final Thoughts - Drupal is Here to Stay!
There you go!
You're now well aware of the power points of Drupal that make it the go-to CMS for your business in 2022.
To conclude, Drupal is the versatile CMS platform that has continuously grown with innovative features and several contributions from the community all needed in this competitive age of demanding consumers.
Having said that, hiring Drupal development services for your business would be your next best alternative to growing your business. Specbee is a leading Drupal Development Company, delivering an extensive range of Drupal solutions to grow your business.
After all, Drupal has been ruling the industry for the last decade and is here to stay!