B2B and B2C DO NOT EXIST anymore. It is time businesses realise this…..
As a business, when you label an individual as your consumer, there is a very common disconnect which classifies you as a B2C brand. However, the distinction between B2C and B2B is no longer a thing in the market. These days, companies climb the success ladder or fail, based on their ability to build and maintain a long lasting personal relationship with individuals.
Energised by tech innovations, individuals today have very high expectations about what makes a great customer experience and fail to have patience for businesses that do not deliver. This has depicted the interdependence between two major business groups in the industry: B2B & B2C. The growing trends have democratised the marketplace and bridged the digital divide, giving rise to the B2All (Business to All) strategy. As a result, everyone is equal in this new way of selling, whether your target audience are businesses, or an individual customer.
How does Drupal 8 fit in?
Helping organizations to keep pace with these growing demands are the content management systems, which play a key role in presenting businesses in front of audiences, connect with leads, convert these leads into customers, and keep customers coming back.
With robust and flexible infrastructure, innovative design and some great out of the box features, Drupal CMS is one of the top web solutions considered by businesses around the world to stay abreast with the surge in demand for personalization, interactivity, and scalable tools. However, it turns out that a lot of marketers are quite unfamiliar with Drupal's potential.
As a modular CMS, Drupal 8 creates tonnes of opportunities for digital marketers to integrate with marketing platforms and configure the website to act as a central node for the entire digital marketing ecosystem.
This makes things a lot easier for marketers, allowing them to manage everything from the admin interface of Drupal CMS.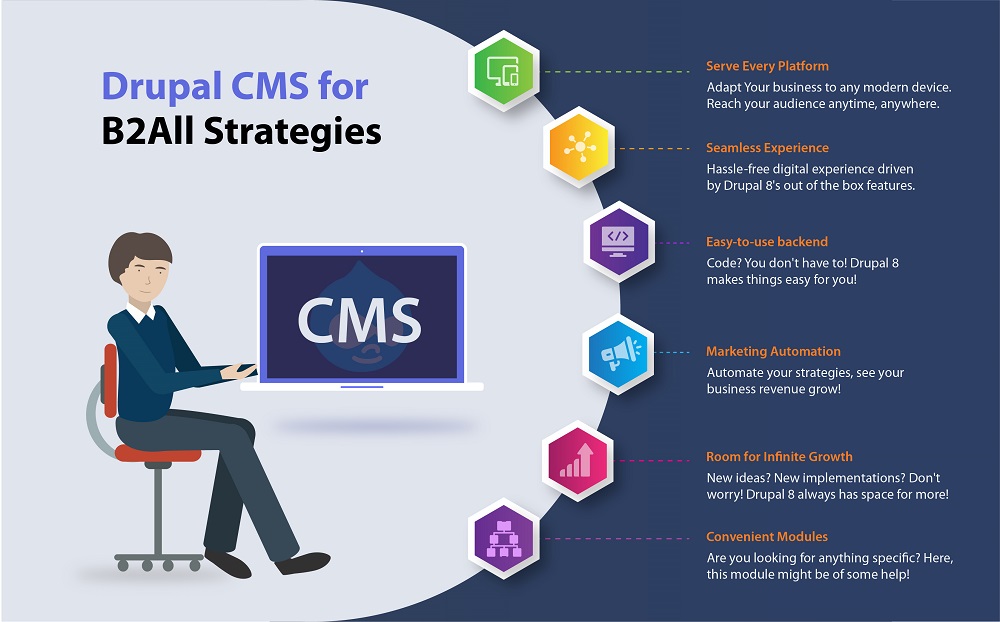 Serve Every Platform
The digital economy has exploded in the past decade, and everyone connects to you with a device of their choice. As a business, you cannot channel your efforts to be picky about your online platform, and whom it will serve. One study found that on an average, more than 55% of the users won't recommend a business with a poorly designed mobile site.
With its customisable features and the ability to create responsive websites or web applications, Drupal 8 is the CMS that can adapt your business to any modern device without any hassles.
Seamless Experience
Remember the last time you saw a restaurant ad on a website, and you looked it up on your mobile device? Only to find that the site would not load because it was only readable on a 25 inch PC. Odds are that you never went back to that restaurant and you found somewhere else to go. DON'T let your business be that restaurant! Your possible customers should never pay the penalty for switching devices. Drupal 8's out of the box features lets you create impeccable user experiences on various devices, while handling all your information on the website.
Easy-to-use back-end
With a lot of information to handle, marketers often get stuck trying to handle the functionalities of the online platform, every time they have a new requirement for implementation. Sometimes they are required to remove or change some of the features/content from the back-end and their dependency on the technical team is always a big hurdle to cross.
However, with Drupal 8, things are different! Drupal CMS has a powerful back-end which can be managed without any coding skills. This gives marketers the option to handle content authoring with ease and customise accordingly.
Marketing Automation
At the end of the day, marketing strategies are all about raking in revenue by implementing these methods into your business models. And 78% of marketers believe that marketing automation systems dynamically contribute towards improving the revenue of a business.
While automation works towards driving the right crowd to your website, once the prospects arrive, these automation systems turn themselves off and it is your CMS that has to do the further talking! It plays a huge role in identifying the visitor to your website, and feeding the required data to the automated system so that further action can be taken based on their behavior.
Drupal CMS being the most scalable and flexible CMS for enterprises, has some of the best modules to integrating marketing automation tool into Drupal. Some of the best modules of Drupal 8 are Marketo, Hubspot,Pardot, and Salesforce.
Room for Infinite Growth
Also known as an "open marketing platform", Drupal CMS is a robust CMS that creates room to plan ahead for eventual growth of your marketing strategies. Built from the ground up to integrate with an endless number of marketing tools, Drupal enables you to seamlessly integrate digital marketing platforms to interoperate content and create a hassle-free experience.
Convenient Modules
Each of your marketing strategies centered around platforms such as email marketing, customer relationship management, marketing automation etc have dedicated modules that need simple configurations to set up and start working their magic with your website. These modules are an essential part of the content management system and add the extra functionality, making your online presence powerful and unique.