A website without Metatags is like a shop without a signboard. With Drupal Meta tags, you can showcase what your business/website is about without giving out too many details. Something that can captivate your audience and make them want to click to know more about your website. The Drupal Metatag module in Drupal 9 lets you easily and dynamically create and customize various metatag elements that can help you improve your Drupal SEO ranking.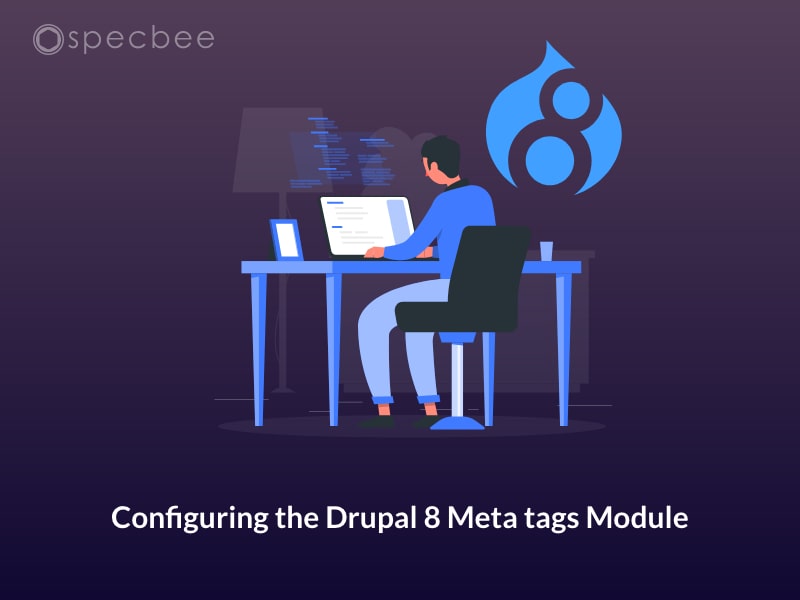 Drupal Meta tags have been around for a very long time and play a significant role in optimizing your website for search engines and Drupal SEO. You can reach your audience organically when you set up Drupal meta tags the right way. 
So, how can you improve your Drupal website's SEO with Drupal meta tags while being able to create or modify them as you like? Easy – Leverage one of the best Drupal SEO modules - the Drupal Metatag module. 
The Drupal Metatag Module
With the Drupal Metatag module, adding structured metadata about your website is easy. In addition to Meta tags for Keywords and Description, you can also customize content you want to display for each of your social media networks. It supports Drupal meta tags for Open Graph Protocol, Twitter Cards, Dublin Core and much more. The inclusion of Drupal Console integrations helps developers to create various custom meta tags too.
Getting Started: Installing the Drupal Metatag Module
Drupal Metatag module requires you to install the tokens and ctool modules. You will need to download and install the Drupal metatag module from Drupal.org or download it through the composer dependency manager. 
Enabling the MetaTag Module in Drupal

Go to Extend Search for meta tag and enable it. Along with meta tag, you can also install the meta tag extensions such as open graph, twitter cards.
Configuring Drupal Meta tags
Go to Configuration. Click on Meta tag under Search And Metadata.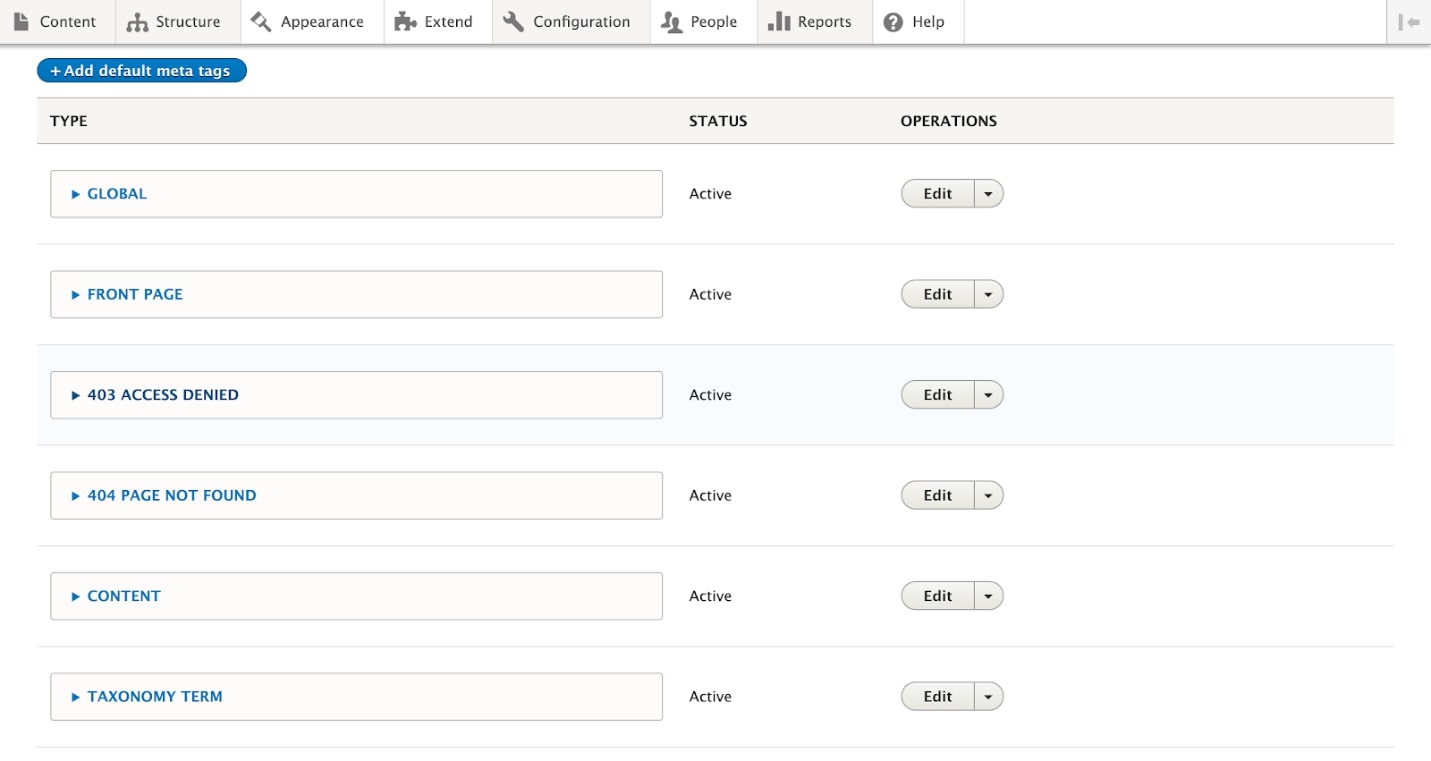 By default, you will get these set of types. Global will be applicable to all your pages. You can create your own Default meta tags for a content type or taxonomy terms and configure it according to your requirements.
Basic Tags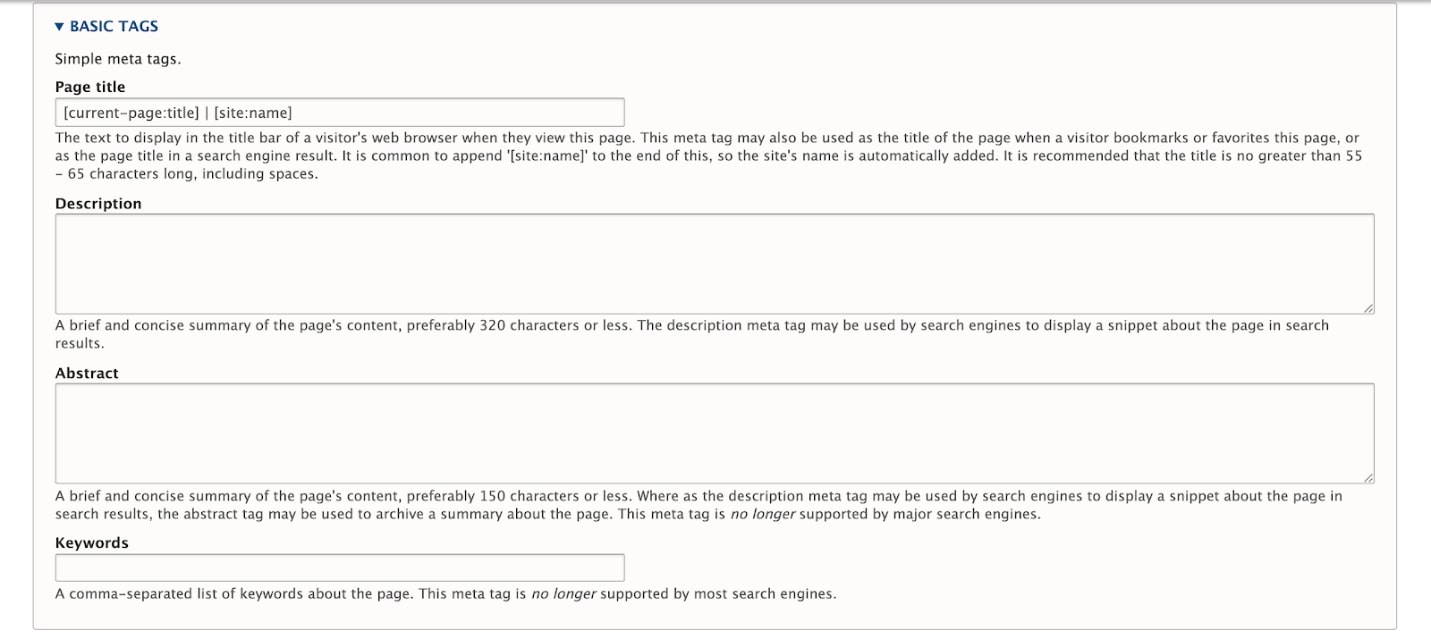 These are the foundation tags in Drupal meta tags which are very effective in improving your Drupal SEO ranking.
Page title will set the title of the page. While the title tag doesn't start with "meta", it is in the header and contains information that's very important to SEO.
Description will let you give a brief description of the page. It is used by search engines in the search results to display a brief description about the page.
Advanced Tags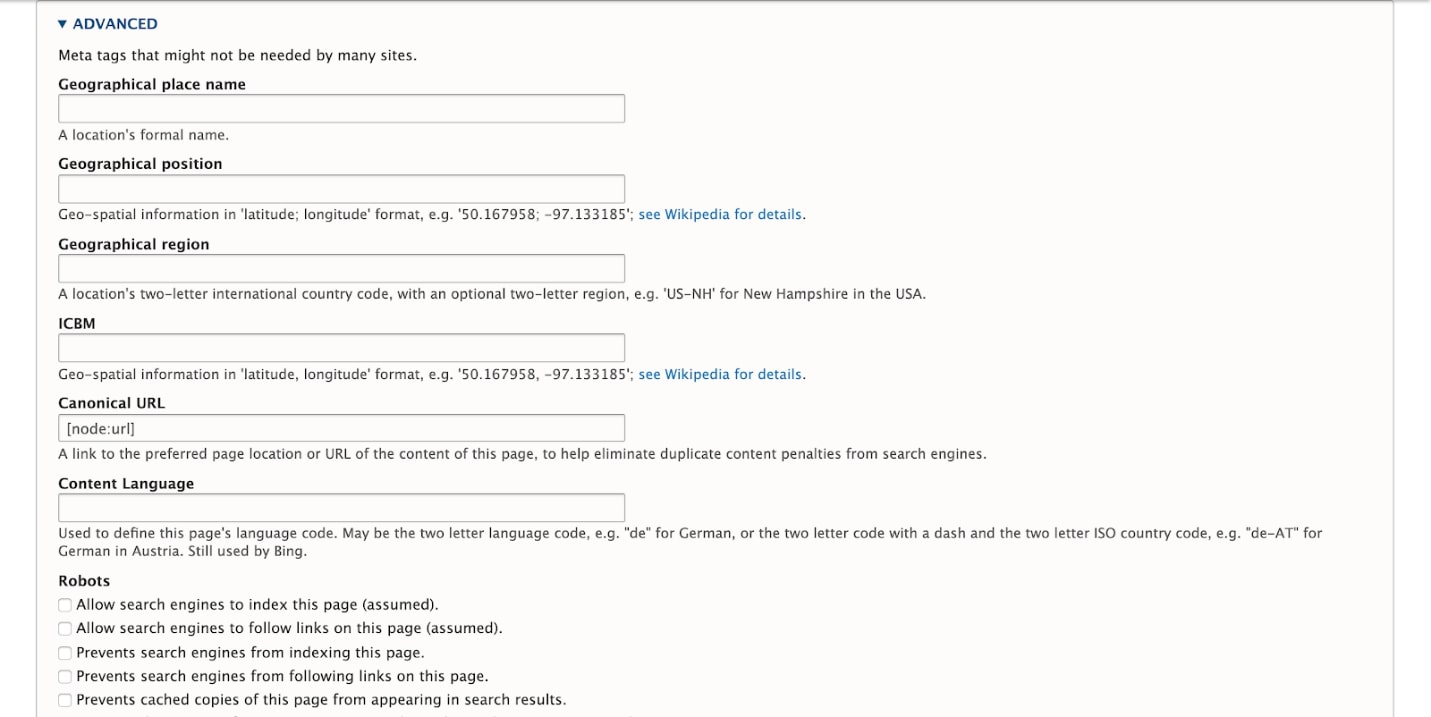 These are optional tags that you can use for improved Drupal SEO results.
Geographical tags give information related to the location. The Drupal metatag Canonical URL will tell the search engines that the certain URL could have duplicate content and need not be displayed in the search results. Robots will give the option to configure how you want your site links to be seen by the search engines, preventing google translation, disabling the search engine indexing, etc. Image is a URL to a unique image representing the content of the page.
Open Graph Meta tags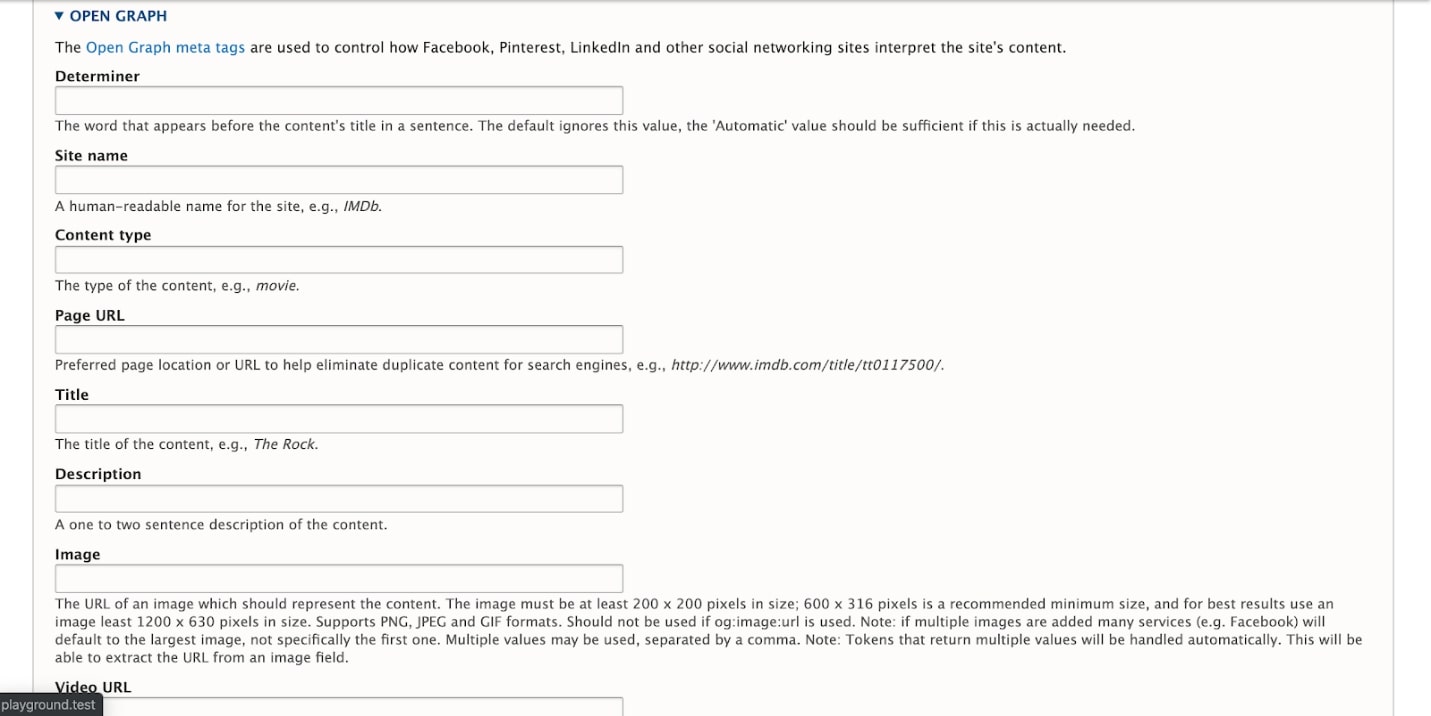 Open Graph meta tags help with sharing content on social networks like Facebook, Pinterest, and others. The site name, title, image, and description will be the brief content show while sharing. Here you can specify the type of image or video. It is important that you specify the image width and height.
If you want to further extend the Drupal metatag module to display structured data in JSON LD method, you could install the Schema Metatag module. The Drupal metatag Schema module helps in placing all the Scehma.org properties in JSON format within the header. This enables search engine bots to have a deep understanding of the web page.