Everybody needs healthcare at some point of their lives. Typically, a patient (also read as consumer) will resort to the internet to choose a healthcare provider. Once they choose a suitable or hight-rated provider and before they make that call, your potential patient will want to know more about your services, specializations, nearest locations, and doctors. They might also want to find out from the portal about their previous health records, schedule/re-schedule appointments, check on their prescriptions, etc.
Like every organization, healthcare providers too need an online representation for healthier marketing. Being open-source, extensible, secure, and highly customizable, Drupal seems to be the ideal choice of CMS for any healthcare organization looking to stay ahead of the competition. Not surprisingly, healthcare organizations like Pfizer, Moderna, The BMJ, Children's hospital LA, Johnson and Johnson, Inova, Aster hospitals and others, rely on Drupal to meet their digital experience demands.
Let us delve deeper into some of the features that healthcare websites must have and how Drupal aligns with the requirements. See how we helped Aster Hospitals, a global healthcare provider, enable a cohesive web experience across their multiple regional websites.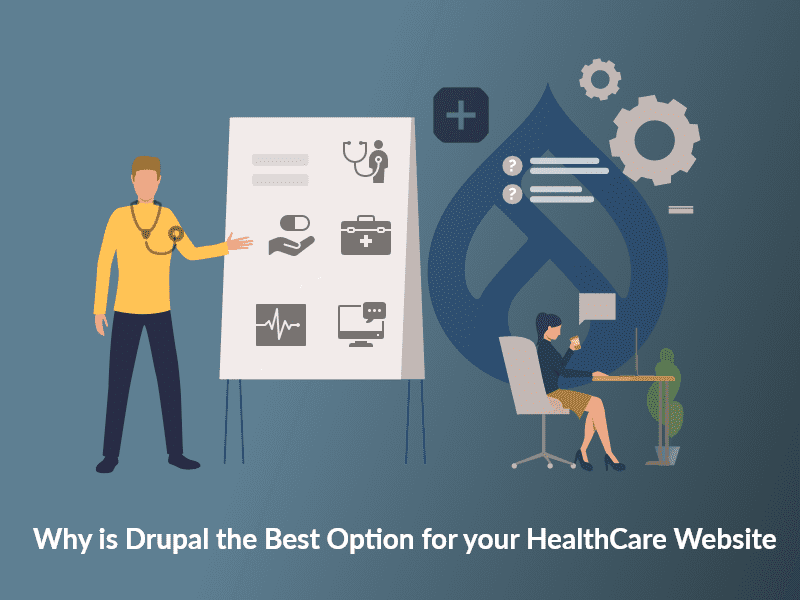 Intuitive User Experience Design
A well-designed and intuitive user experience is a must-have for all websites providing services/products to consumers. Healthcare websites need special attention as it proves to be a great marketing asset. Most of the website visitors arrive on a healthcare website to look for information like the number of branches available, their locations, what specializations are offered, doctors' information and more. Being able to provide this information aesthetically and intuitively should be of primary focus for any healthcare website.
With tons of compelling UX capabilities that Drupal offers, it is easy for healthcare providers to stay on top of their competition. Drupal offers responsive web design right out of the box so that customers can view healthcare information beautifully on any device. With features that can enable page caching and optimized image, you can offer fast-loading websites to your customers. If your healthcare system is spread across the world, you can leverage Drupal's multilingual feature to deliver translated content easily. There are many modules that can elevate your site navigation like the Menu block module, Easy Breadcrumb module, Superfish module, Cheeseburger menu module and many more. To assess how well your design is performing, Drupal also provides you with many A/B testing modules like the A/B test JS module and the Webform A/B testing module.
Fine-tuned Searching
Customers or patients are always looking for information when they visit a healthcare website. And offering only an intuitive navigation system is not always enough. A simple yet fine-tunable search functionality can be an added benefit that can put your visitors at ease. 

Drupal offers many ways to integrate powerful search functionalities like the Search API module which is an out-of-the-box module providing a framework to build searches using any search engine. It also supports facetted search for more polished search capabilities. Elasticsearch and Apache Solr are other search integrations provided by Drupal for high performing searches.
Cohesive Web Experience
More often than not, healthcare sectors have various regional websites that need to function independently and individually but yet come under one umbrella. These independent healthcare units also need to be able to exchange patient information within themselves be able to assure quality and minimize any medical errors. 
Drupal's multisite feature allows healthcare organizations to do all of this and more. It allows independent sites to be served from a single codebase while each of them can have their own databases and configurations. With Drupal 8's component-based development, regional marketing teams can create individual webpages or functionalities without worrying about UI/UX inconsistencies and defined UX discrepancies. 
Third party Integrations
Health Care web applications need to integrate with third party APIs to be able to connect better to databases of information and to link between different sectors of health care for smooth transmission of information. Oftentimes, healthcare websites will need to connect with third part sites for managing appointment booking, video consultation, health record management and other services.
 
Drupal is supremely extensible and can integrate with third party API's seamlessly and efficiently. For an experienced Drupal developer, it is very easy to write API's and create custom integration points for any third-party platform.
Accessing and Creating Content
For a healthcare website with multiple branches, content creation, access and workflow need to be managed carefully. Marketing teams for various regional branches will need to have access to create compelling content as and when required. All of this without having a dependency of one another. 
Drupal's strength lies in its capabilities of managing multiple sites with multiple users handling multiple content types. Content management and creation is easy with rich text editors like the WYSIWYG and modules like Paragraphs and Layout Builder. Modules like the Media module allows users to embed and manage rice media content. Drupal's content access and role-based access system offers marketing teams with required control over their content. Modules like the Workbench module helps build a systematic workflow system for site contributors to create and find their own content. Drupal supports a configurable workflow system that can be programmed and administratively overwritten.
Securing HealthCare
With a number of critical healthcare and personal information being passed on from one health sector to another, there's an absolute necessity for this information to be secure and to avoid privacy violations.
Drupal is famously known for the security it provides and this is proven when government sites like the Whitehouse, Department of Defence (DOD), NASA, etc. are powered by Drupal. It safeguards patient data with a HIPAA compliant encryption system. A high level of permission control can be set to be able to access sections of the website. These security permissions are also customizable to suit your exact security requirements. Drupal's granular user access control system, database encryption, strong password protection modules and policies are a few top security features to name. The Drupal Security team also constantly monitors and responds to security issues that are reported. When a security issue is found, they make sure fixes and patches are released asap.
The Impact of the Acts
The Health Information Technology for Economic and Clinical Health (HITECH) Act, Affordable Care Act and Meaningful Use are administration mandates passed in 2009 in the United States of America that promotes the use of IT in the health industry. All health care providers across the U.S were encouraged to adopt an interoperable Electronic Health Records (EHR) system to improve the quality of health care, reduce medical errors, reduced costs etc. Let's face it.  EHR systems are expensive, sometimes costing millions of dollars up front. There are a lot of overheads like hardware costs (servers and computers), software costs, training costs, maintenance costs etc., which a healthcare organization will need to splurge on.
However, implementing EHRs means higher expenses, workflow changes, loss of productivity temporarily during adoption of the EHR system and many more challenges that the healthcare industry would have to face. Being an open-source platform, development costs are drastically reduced while the quality and stability of the website soars high. There are over thousands of contributed modules that are free and that are specifically built for the healthcare industry, thus also reducing development time.